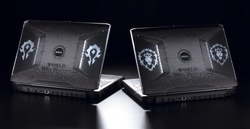 This truly legendary collaboration with Blizzard reinforces Dell's commitment to design excellence and dedication to delivering the best possible gaming experience
ROUND ROCK, Texas (PRWEB) December 4, 2007
The XPS M1730 World of Warcraft Edition is fully equipped for battle. The system is emblazoned with custom World of Warcraft artwork, inside and out, that leaves no question as to purpose - pure, unadulterated gaming action. Exclusive rare bonus items and a World of Warcraft backpack filled to the brim with game-themed extras are also part of the unique experience.
"This truly legendary collaboration with Blizzard reinforces Dell's commitment to design excellence and dedication to delivering the best possible gaming experience," said Glen Robson head of XPS systems at Dell. "World of Warcraft players can now have the ultimate system to reflect their passion for the game."
Surprise, Delight, and Amaze
The level of detail that the XPS M1730 World of Warcraft Edition delivers will delight and amaze any gaming enthusiast. In addition to a truly distinctive system, customers will receive a special Quest Envelope that contains access to truly epic items, like a Golden Ticket from FigurePrints, a company that creates custom figurines of players' individual World of Warcraft characters.
To help delve into the mysteries and surprises around the XPS M1730 World of Warcraft Edition, Dell invited Randydeluxe Jordan of the popular World of Warcraft podcast The Instance, to be the first to un-box a new system. Check out Randy's response to the complete out-of-box-experience on direct2dell.com and http://www.delllounge.com.
Special XPS M1730 World of Warcraft content includes:
Starting at $4,499 (USD), the XPS M1730 World of Warcraft Edition system includes:
-- Aggressive styling with backlit Honor Badges, touchpad and keyboard
-- LightFX perimeter lighting for added immersion during game play
-- Full-size keyboard with 10-key number pad to help navigate games
-- AGEIA PhysX mobile processor and built-in Logitech(R) GamePanel LCD
-- NVIDIA SLI graphics power and 512MB of dedicated video RAM with DirectX(R) 10 realism
-- Optional over-clockable(2) Intel(R)Extreme Edition Core(TM) 2 Duo processor, up to 3.4GHz
-- Optional dual RAID 7,200 RPM hard drives for fast access or even faster access with an optional 64GB solid state drive
-- Full HD 17-inch widescreen and available Blu-ray Disc(TM) to provide the ultimate mobile viewing experience
-- 7ms average display response time(3) to ensure quick overall system performance
-- Complete wireless connectivity with built-in Optional Mobile Broadband,(4) Wireless-N, Bluetooth, and Dell's exclusive Wi-Fi Catcher(TM)
-- Built-in camera and digital array microphones to clearly see and flame the competition
-- Dual headphone jacks, noise-isolating ear buds and a portable ExpressCard media remote
For more information about the XPS M1730 World of Warcraft Edition notebook PC, visit http://www.youtube.com/dellvlog.
First-Class Service for XPS Customers
All XPS notebook computers feature Dell's first-class XPS service, which guarantees quick telephone access to Dell's best home-computer technicians and a 15-month subscription to virus and spyware protection. XPS notebooks purchased from Dell also include one year of LoJack for Laptops(5) theft recovery service and one year of 10GB online storage and backup space with Dell DataSafe Online Backup. More information is at http://www.dell.com/firstclass.
About Dell
Dell Inc. (NASDAQ:DELL) listens to customers and delivers innovative technology and services they trust and value. Uniquely enabled by its direct business model, Dell is a leading global systems and services company and No. 34 on the Fortune 500. For more information, visit http://www.dell.com, or to communicate directly with Dell via a variety of online channels, go to http://www.dell.com/conversations. To get Dell news direct, visit http://www.dell.com/RSS.
About Blizzard Entertainment Inc.
Best known for blockbuster hits including World of Warcraft and the Warcraft, StarCraft(R), and Diablo(R) series, Blizzard Entertainment Inc. (http://www.blizzard.com), a division of Vivendi Games, is a premier developer and publisher of entertainment software renowned for creating some of the industry's most critically acclaimed games. Blizzard's track record includes 10 #1-selling games and multiple Game of the Year awards. The company's online-gaming service, Battle.net(R), is one of the largest in the world, with millions of active users.
Dell and XPS are trademarks of Dell Inc. The Bluetooth word mark and logos are owned by Bluetooth SIG, Inc. and used by Dell Inc. under license. Dell disclaims any proprietary interest in the marks and names of others.
Offers subject to change, not combinable with all other offers. Taxes, shipping, handling and other fees apply. U.S. Dell Home and Home Office new purchases only. Dell reserves right to cancel orders arising from pricing or other errors.
(1) You must have a World of Warcraft account in good standing to be eligible for these rewards, and all rewards are limited to one (1) World of Warcraft account. World of Warcraft, and all accounts, characters and, without limitation, all other copyrighted content related to World of Warcraft, is the property of Blizzard Entertainment, Inc. All rights reserved.
(2) Overclocking may cause unexpected system shutdowns and reduce the operational life of your system components. Dell does not provide technical support for any hardware or software issues arising from any third party application, such as NVIDIA nTune 5.0, used to enable overclocking. Dell provides technical support only at factory default settings.
(3) 7ms typical response is based on grey-to-grey response
(4) Subject to wireless provider's broadband subscription and coverage area; additional charges apply.
(5) Not a Dell offer. Certain conditions apply. For full details, see terms and conditions at http://www.lojackforlaptops.com.