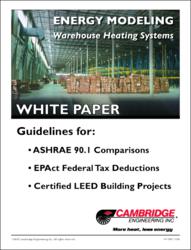 St. Louis, Missouri (PRWEB) April 24, 2012
In order to determine the most efficient way to heat warehouses, an independent consulting firm evaluated the energy performance of six common warehouse heating systems with computer models. A Blow-Thru type warehouse heater, as manufactured by Cambridge Engineering, was found to use the least amount of energy to heat and ventilate large warehouses and distribution centers. The published white paper summarizes the approach, results, conclusions and best practices guidelines for energy efficient warehouse heating.
Heating, ventilating and lighting consume most of the energy in non-refrigerated warehouses. Installing more energy efficient warehouse lighting to save electrical energy is well documented by computer modeling. However until now, there were few energy modeling guidelines for selecting the best and most energy efficient warehouse heating and ventilating equipment. These warehouse heating systems account for 75% to 95% of the total gas used at large warehouse and distribution center facilities.
A 200,000 square foot generic warehouse was developed for this study. Everything, including the warehouse construction, insulation, lighting and heating system, was designed to meet ASHRAE 90.1 guidelines for warehouse energy efficiency. Internal loads included warehouse workers, forklift trucks, stored materials, equipment operation, infiltration and warehouse dock door activity. Six different building conditions were simulated for all six warehouse heating systems to determine the impact on energy use resulting from different ventilation rates and different levels of temperature stratification.
The computer building simulation and energy modeling determined that direct gas-fired, high temperature rise Blow-Thru space heaters use the least amount of energy to heat and ventilate a large warehouse. Energy modeling predicts 35% to 38% less gas usage (therms) compared to the ASHRAE 90.1 baseline warehouse heating system. In fact, using any other type of warehouse heater increases the total therms required to heat a large warehouse by 24% to 59%.
Computer building simulation and warehouse energy modeling are new tools to help contractors, developers, property managers and owners select the most cost-effective energy efficient building systems. It can help obtain EPAct federal tax deductions, state and local tax incentives and utility rebates for saving energy and reducing a building's carbon footprint. Warehouse energy modeling is also used to obtain credit points for LEED/Green warehouse projects.
About Cambridge Engineering:
Established in 1963, Cambridge is a manufacturing company with strong R&D, engineering and customer oriented problem solving capabilities. Energy efficient Cambridge Blow-Thru space heaters reduce installation costs, operating costs and improve indoor air quality for warehouses and distribution centers.
For more information, visit http://www.cambridge-eng.com or call 800-899-1989