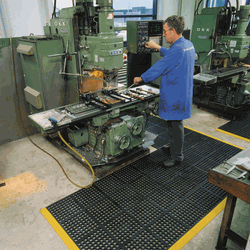 (PRWEB) January 23, 2013
Stop-painting.com is now offering many new options in floor mats and runners for heavy traffic work areas. Warehouse floor marking and safety mats are essential in manufacturing. The new Anti Fatigue Runners provide a safe, ergonomic walk-way for your employees. Stop-painting.com offers many runners to fit the specific needs of individual warehouses .The runners can be cut to fit the unique walkway or work station. The industrial safety mats are designed to withstand oils and chemicals it may come in contact with.
Superior Mark tape, manufactured by Stop-painting.com, would be a great addition to the mats and floor runners to help mark the layout of the mats and warehouse. Superior Mark tape is the industry's leading tape in quality and endurance. The tape was designed and patent pending by Cliff Lowe to solve the never ending problem of warehouse floor maintenance. With Superior Mark, time will no longer be spent scraping up old paint or vinyl tape. Superior Mark's advanced beveled edges and recessed adhesive is second to none in the tape industry. The recessed adhesive allows the tape to be lower to on the pavement, while the beveled edges aid to resisting the wear of forklift traffic. The tape is easy to install and requires no downtime in the warehouse.
Stop-painting.com also offers multiple floor signs. Insite solutions can produce a custom floor sign to fit individual needs. The floor signs are available in vinyl, rubber, or permanent inlaid. The permanent Inlaid floor signs are very durable, long lasting, and can be applied in minimal time. Simply create a border using a thick tape, sand the area in the border, clean with alcohol, and adhere sign. Once the previous steps are completed, mix the epoxy and spread it evenly over the sign. Stop-painting.com offers easy to follow printable installation procedures
Stop-painting.com is the leader in warehouse safety and comfort, making available many solutions for protecting warehouse floors and employees. Insite Solutions also has products to increase safety outside the workplace such as road markers, traffic cones, and parking lot stencils. Parking lot stencils can be used to increase safety awareness around businesses, designate parking areas, and much more.
Contact details
To request a complimentary sample of Superior Mark floor tape and Corners, visit the manufacturer's website, http://www.stop-painting.com. Stop-painting.com is the leading expert on industrial floor marking and designs floor marking solutions for traffic control, Lean/5S organization, industrial safety, OSHA compliance, and other custom applications. The parent company, InSite Solutions, holds a patent for a traffic marking tape design. For more information, please contact Cliff Lowe at 1-866-284-1541.