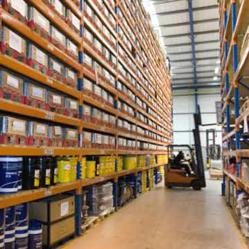 Houston, TX (PRWEB) February 18, 2013
Adams Warehouse & Delivery, one of the nation's top logistic companies has thrown down the gauntlet to its competition. The largest family owned Warehouse & Delivery company in Texas has launched a new drive to bring in new accounts by offering the very best warehousing services that are available anywhere in Texas. Their goal is to dominate through providing the best rates and facilities, and with superior service.
All other warehousing services have stood-up and taken notice of the company that Al Adams founded back in 1976. Under the leadership of Alfred L. Adams, Jr., this company has grown to be the largest family owned warehousing services in Texas. Perhaps it is the result of their Mission Statement, as told by Al Adams, Jr.: "Our goal is to help every one of our customers become leaders within their specific industry in the Texas marketplace. Though every business may have a vision, it takes an experienced logistics service to help carry out that vision. Our full service distribution is custom-tailored to meet our customers' needs."
The company reports that its three locations provide over 520,000 square feet of dry warehouse storage, including 70,000 sq.ft. of climate controlled cool storage. With this immense amount of space, no shipment is too large. Of the many flexible storage solutions they provide, the most often used are: racked and floor storage and cross dock distribution, shrink wrapping, repacking services, picking, packing, and kitting.
Adams Distribution makes sure that security is never an issue with the employment of Central Station Monitored Security Cameras. This also extends to fire protection with a fully sprinklered facility. This means peace of mind for all of their customers on a 24-hour basis, 7-days a week. Success has been achieved through the integration of high technologies, the latest equipment, and a well trained staff.
Al Adams Jr., explains it this way: "Our expansive resources have allowed us to help any company or business expand to new markets at the lowest possible costs. We believe that a growing business is a successful one, so we tailor our services to meet its business' logistics needs from start to finish".
Complete information is available on the website: Adams Warehouse & Delivery
Media Contact:
Adams Distribution
Houston, Texas
866.830.4737