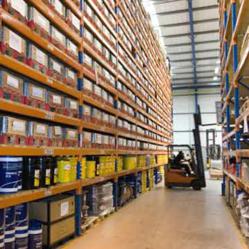 Adams Dist was not only our choice because of price but also because of how well they understand the industry and educate us on our logistics plan. Thanks a ton.
Jason- Houston, TX
Houston, Texas (PRWEB) October 11, 2012
Adams Distribution, long a leading contender among Houston warehouses, has now expanded its services to become totally comprehensive, making it one of the leading logistics companies in the region.  
"Step by step, we've been finding more ways to help our customers.  We've been in business since 1976, so now everything is coming to a head.  We're pleased we can offer our customers a broader range of services than ever before," said owner Fred Adams.
Warehouse logistics companies in the Houston area who don't have the financial or time resources to build their own internal logistics departments can now reliably outsource just about any service to Adams Distribution.  The company's goal is to build a relationship on a foundation of trust.  Even though Adams Distribution will handle all of its services externally, the goal is to make it feel like the company is an internal department.  
Services available include warehousing, shipping, pool distribution, assembly, kitting, crating, uncrating, merchandising, promotional, and home delivery.  With this many services available in one location, companies will only need one point of contact, easing administrative challenges.  
The pool distribution service can be used for shipping across the nation, or local to the Houston area.  Adams Distribution has three locations throughout the Houston area, so shipping costs can be minimized regardless of the destination.  Each physical storage location offers optional climate-controlled cool storage, close-circuit monitoring 24 hours per day, and at least 100,000 square feet of storage.  
Companies in need of light assembly services can also have their needs met by Adams Distribution.  Products that require a minimum amount of assembly can be put together, which works great for a sudden influx of inventory.  Many companies also find themselves in a position where they need a retail or wholesale kit assembled.  This service works well for piecing together retail pallets and other shipping packages.  
Another service offered by the Houston logistics company, the crating and uncrating service, allows the company to help businesses prepare their products for shipping and inspection.  Other businesses may run into a pinch during the holiday season and may need help restocking their merchandise in-store.  Instead of hiring their own temporary staff, they have the option to let Adams Distribution take care of the entire process.  
One service this Houston warehouse offers that others may not be able to find is its promotional services.   It will happily deliver or set up any promotional items customers need, and it also allows customers to use special trucks or trailers to do so.  
The company also delivers to home-based distributors and fully understands the need to be quiet and not disrupt the activity of the local neighborhood.  Adams Distribution really does do it all.  Having one point of contact for all logistics services is a valuable asset for any business. Companies looking for a comprehensive warehousing and distribution solution should contact Adams Distribution at the phone number below.  
About Adams Distribution
 
Adams Distribution was founded in 1976 when Al Adams saw a market need in the logistics industry for a company that valued customer service and prompt follow through.  Since its founding, the company has grown to include three different physical locations, and is now the leader in warehousing in the Houston area.  The company does everything it can to accommodate customer needs.  
Fred Adams
Adams Distribution
866-830-4737
3701 Yale Street
Houston, TX 77018