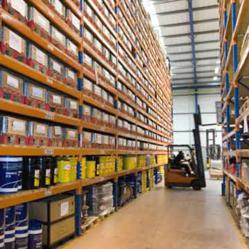 Houston, TX (PRWEB) October 01, 2012
Adams Distribution, Houston's local warehouse services leader, now offers free quotes for customers who may need any help with a variety of different warehousing services.
The company, which already has three physical locations and a comprehensive service selection, is adding one more option in order to maintain its position as a leading Houston warehouse company. "Since 1976, we've been doing everything we can to serve our customers. Whatever concerns they might have, we try to work out a mutually agreeable solution with them. We thought offering a free quote would offer our customers the opportunity to customize their orders, and anything that makes our customer's lives easier is a plus," said owner Fred Adams.
Currently, Adams Distribution offers a number of fulfillment services, including warehousing, freight distribution, light assembly, kitting, crating, uncrating, merchandising, promotion, and home delivery. Light assembly is performed on an as-needed basis. Companies who have a sudden influx of inventory won't need to hire temporary staff in order to accommodate those needs. In addition, companies in need of kitting services, where retail or wholesale kits are assembled, are also served. Products that need to be crated and uncrated are also a service offered by Adams Distribution.
These services provide countless, valuable man hours to companies who are in need. They will no longer have to hire temporary or part-time staff in order to keep up with the workflow. These value-added services, along with the company's top-notch facilities, make it one of the leading fulfillment companies in the area.
The pool distribution service also sets the company apart from others in the area. Hospitals and businesses may request a large amount of products from multiple sources. Adams Distribution brings these products into one area, condenses them into larger shipments, and then distributes them to the appropriate organizations. The result for companies who use this method is substantial cost savings over more conventional delivery methods.
"We've saved our customers countless hours and shipping costs over the years. This is especially helpful to companies during these lean economic times," added owner Fred Adams.
The net result of all of these services is that Adams Distribution is able to cater to every warehousing and shipping need modern companies have. And Adams Distribution accomplishes that successfully for every customer.
In addition to a comprehensive service offering, Adams Distribution also offers top-notch warehousing facilities. Each location is securely monitored 24 hours per day, fully equipped with sprinklers, has service from the local railway system, and also has complete shipping dock services. In the event of any fire or natural disaster, damage to customer product is minimized. Regardless of the need or situation, Adams Distribution has an effective plan of action in place.
Customers in the Houston area interested in keeping their existing product safe or in a diverse selection of value-added services should contact the company using the information provided below.