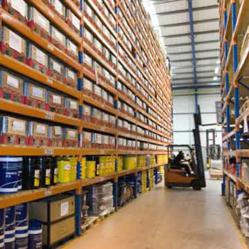 We understand that in order for your end-customers to be satisfied, we have to do our job right and on time, every time.
Houston, TX (PRWEB) June 03, 2013
Adams Distribution, a leading Houston warehouse offering warehousing services and logistics, now offers rush delivery on time-sensitive shipments for customers looking for a full-service distribution and warehousing solution. With reliable trucking and logistics, combined with over 400,000 square feet of FDA-approved warehouse space, Adams Distribution is a logistics company that has attempted to anticipate their customers' every need—including those that are time sensitive.
"Our customers and their business is our top priority," says owner Fred Adams. "We understand that in order for your end-customers to be satisfied, we have to do our job right and on time, every time." With this understanding, Adams Distribution has included such services as warehousing, freight distribution, light assembly, kitting, crating, un crating, merchandising, promotion and home delivery. The company will even take care of light assembly if needed—whatever necessary to make sure their customers feel like they are treated right.
"We understand the roller coaster that is commerce and we understand that your company's distribution needs can change significantly, depending on circumstances," says Adams. "That's why we do our best to make sure that if your company has a lot of inventory to deal with, we are there to help out as much as possible with the multiple tasks that are involved with that influx—from kitting and crating to promotion and home delivery. That's what we mean when we say we are a 'full-service' distribution company and we stand by that promise."
Full-service distribution means that Adams Distribution can handle a company's inventory transportation from beginning to end. Using reliable trucking companies for shipment, Adams Distribution maintains an EDI computerized inventory control system to keep track of every shipment entrusted into its care. When storage and warehousing services are needed, Adams has a solution for that, too, regardless of the commodity. In fact, 70,000 square feet of its 400,000 square feet of warehouse is climate controlled and cool for the storage of foods and other commodities requiring a temperature-controlled environment.
With three locations in Houston that are rail served for products being transported by train, Adams Distribution has distinguished itself as a company that puts the needs of customers first. "I can't imagine it any other way," says Adams, whose family has owned the company since its inception in 1976. "We started out as a family-owned company focused on customer service and satisfaction, and I plan to make sure we stay that way."