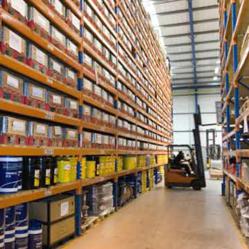 Our computerized system and service-oriented warehousing and distribution team are a large part of what makes Adams Distribution services flow so well
London, United Kindom (PRWEB) May 30, 2013
It's not often a company can boast of offering it all, but for Adams Warehousing & Distribution—a logistics company and Houston warehouse—"full-service" is an appropriate claim. Now offering it's services from Houston all the way to the U.K. and beyond. From coordination with the supplier to front-door delivery to the end customer, and everything in between, Adams Distribution has worked hard for over 30 years to ensure its customers never have to use a different logistics or warehousing service again whether they are in the U.K. or in the states.
"Our computerized system and service-oriented warehousing and distribution team are a large part of what makes Adams Distribution services flow so well," says owner Fred Adams, whose family opened Adams Distribution in 1976. "We work hard so you can have a worry-free experience."
The flow of logistics at Adams Distribution is deceptively simple. Whenever an order is made, it is entered into an EDI computerized inventory control system and immediately routed to an account manager, who works to ensure the products are safely delivered to one of three Adams Distribution warehouses located in the Houston area. Approximately 70,000 square feet of the total 400,000 square feet of warehouse space available is climate controlled and cooled to allow food storage.
Adams Distribution's full-service logistics includes coordination with the supplier from the onset of an order to ensure that materials are received on time, checked for accuracy and quality, and then moved quickly to a warehouse. If rail transportation is used, each warehouse is rail served, making it convenient to move commodities directly from the train car to the warehouse space.
To ensure that customers are aware of where their commodities are at all times, Adams Distribution makes tracking information available at every step along the distribution process—from the moment the product is received by the supplier to the moment the end customer receives the product.
For customers who need warehouse storage space, Adams Distribution offers flexible racked and floor storage cross dock distribution, as well as picking, packing, packaging, kitting, and dock services. They will even shrink wrap the product for you or repack it if it is a pallet product.
"Simply put, we understand the entire process that is involved along the distribution chain," says Adams. "We understand it and we have perfected it, which is why we've upheld such an outstanding reputation in the industry. It's that reputation that has helped our company grow and we understand the value of maintaining it with each and every shipment, regardless of the size."