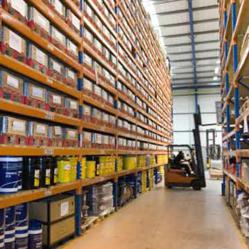 We are excited to offer rush delivery for all new customers and current customers as the holiday season approaches!
(PRWEB) November 07, 2012
Adams Distribution, Houston's Logistics warehousing and distribution leader, has extended its new rush delivery offer.  The new service, which can be pieced together within 24 hours, will be especially helpful to companies as the holiday season approaches.
"We've had this service for some time, and I want to make sure our customers are aware we have it.  With the holiday season coming up soon, we expect many area businesses will run into sudden influxes of inventory they're not prepared to well in advance to ship," said owner Fred Adams.  
Adams Distribution positions itself ahead of the competition by offering flexible options.  If customers have unique shipping needs, they can rest assured, knowing that Adams Distribution is willing to work out a unique rush delivery and pricing plan that works for every customer.  Its ability to meet these unique needs has resulted in Adams Distribution remaining a force in Houston warehouse logistics.
In addition to its customizable rush delivery option, the company also offers a comprehensive selection of warehouse services.  Customers who need storage space, pooled distribution, crating and uncrating, light assembly, promotion, merchandising, or home delivery will be pleased by Adams Distribution's ability to handle each successfully.  Companies can save themselves a large amount of time and financial resources if they need light assembly services.  Instead of hiring and overseeing a pool of temporary workers, the entire service can be outsourced to Adams Distribution, who will oversee the process.  Large retailers, who are very likely to experience a surge in inventory, could also benefit from the company's kitting services.  Finally, crating and uncrating are also available to customers who have the need.  Each of these Houston logistics services goes far in helping companies during times of unexpected busyness.  
The merchandising service, for example, is where Adams Distribution replenishes company shelves.  The company can also handle promotional services.  Special trucks or trailers can be run, as well as tent displays.  
Adams Distribution maintains three physical facilities in the Houston area, making it one of the leading logistics companies in terms of physical storage space offered.  Each location offers closed-circuit monitoring, has a fully automated sprinkler system, possesses access to railroad transportation, and is built to be highly resistant to hurricanes.  Customers never have to worry about the safety of their inventory.  Of all the companies in the area, this Houston warehouse has the most complete service offering and safest storage facilities.  
The service works well for retailers who need help managing inventory, businesses who need to store large amounts of paper records, and smaller businesses who may not have the staff available on hand to manage their current inventory.  
Businesses in the Houston area interested in storing their product or outsourcing a number of value-added services should contact Adams Distribution using the information provided below.  
About Adams Distribution
 
Founded in 1976 by Al Adams, Adams Distribution offers a unique approach of extensive follow-through and excellence in customer service.  The company now owns and operates three different warehouses in the Houston area, while also offering a complete selection of value-added services.  Adams Distribution provides services 24 hours per day and does everything it can to help businesses in need of logistics management services.