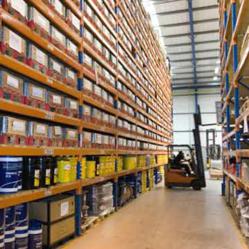 Houston, TX (PRWEB) April 22, 2013
Adam's Warehouse & Delivery has announced that it is utilizing a special type of weather-resistant masonry construction in order to provide a superior grade of protection from storms. The Texas climate sometimes includes high winds and storms, along with heavy rains. The company wants its clients to know that their goods will remain dry and safe in their Houston warehouse.
Adam's Distribution has gone to great expense to insure that their three warehousing locations meet the needs of every type of commodity including food grade and general merchandise. Logistics companies must be centrally located in the Houston Area to better serve the local business base. Adam's warehouse services include flexible storage solutions including racked and floor storage and cross-dock distribution, along with shrink-wrap, repack service, picking, packing and kitting.
Adam's Warehouse & Delivery has grown to become the largest family owned warehouse and delivery company in Texas. This means that no shipment is too large. All warehousing locations include direct railroad access in order to bring the rail cars right up to the dock doors for easy unloading and loading. Not every warehouse in Houston has such a feature. Adam's boasts over 500,000 sq.ft. of dry warehouse storage, including 100,000 sq.ft. of climate-controlled cool storage for such goods as food-grade products.
The FDA and the Health Departments of Texas and Louisiana has approved these cool storage spaces for food grade goods. Along with their growth, Adam's has implemented EDI Computerized Inventory Tracking Systems, and computer controlled temperature systems for the cool rooms. When a client wants to know how their order is progressing, it is only a matter of checking the system for an almost instantaneous answer.
Adam's reports that as soon as the incoming shipment arrives at their doors, it is assigned to an Account Manager, who will log it in to the system, and make sure there are no problems at any stage of the process. It is this attention to detail that Adam's in known for and the reason why clients become lifelong customers. The staff at Adam's receives special training according to their position. Material handling has become an easy task because of the selection of dock equipment that is available at the three warehouse locations. There is also 200,000 sq.ft. of outdoor storage, and clean room services.