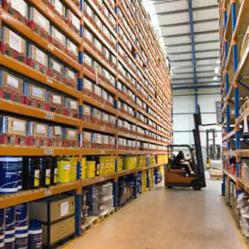 We are happy to meet the demands of our most selective customers with warehousing and flexible storage solutions that are focused on quality from beginning to end—from racked and floor storage to cross dock distribution
London, United Kindom (PRWEB) May 29, 2013
Adams Distribution—a leading storage, trucking, warehousing services and logistics company—now offers three full-service Houston warehouses which service customers even from the U.K. . With capability of storing and transporting every type of commodity, from food to general merchandise, Adams Distribution boasts over 400,000 square feet of dry warehouse storage.
"We are happy to meet the demands of our most selective customers with warehousing and flexible storage solutions that are focused on quality from beginning to end—from racked and floor storage to cross dock distribution," says owner Fred Adams. "We're one of the premiere logistics companies in the nation because our team will do all the work for you, whether it is shrink- wrapping your cargo or repacking, picking and packing it." Many of Adams Distribution customers are now coming from the U.K. as they need more warehousing and logistic partners in the U.S.
Utilizing an EDI Computer Inventory Tracking System, Adams Distribution maintains the logistics excellence that has set the company apart since its inception in 1976. All shipments are tracked electronically, from the moment they come into the warehouse until the final outbound delivery. "As a company that values the loyalty of its clients, we have been committed to providing the best, full service logistics and trucking for over 30 years," says Adams. "Since our team is made up of only the best representatives of our company, no sacrifices in quality or service are ever made."
Being approved by the Texas and Louisiana Health Departments, in addition to receiving FDA's stamp of approval, is no small claim for the growing company, especially in Houston's precarious location through which storms and floods are frequent. To protect the commodities that have been entrusted to their care, Adams Distribution built each of their warehouse facilities with weatherproof masonry. Such foresight has allowed the company to keep the elements out and the commodities within protected.
For additional protection, all warehouse facilities have been built with sprinklers, monitoring systems and video cameras to maintain the highest safety and security protocol available. With 24/7 monitoring, the commodities stored within the secure warehouse space are not susceptible to burglary or fire damage. "We protect your commodities to the best of our ability because we know that you've entrusted your business to us in a very real way," says Adams. "We don't take that type of trust lightly and realize that our business depends on how reliable we are in protecting yours."
The company's warehouses are also equipped with safe dock services that are rail served to maintain customer convenience. This means that for customers using train transport for their commodities, Adams Distribution makes moving products from train cars into the warehousing space easy and dependable. And just because it's Houston-based doesn't mean the company is limited to the area. Adams Distribution handles trucking and logistics of transport, as well, making interstate commerce a breeze.