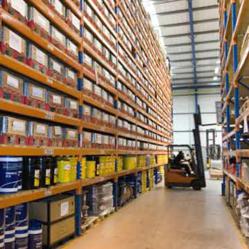 Houston, TX (PRWEB) April 24, 2013
Adams Warehouse & Delivery has announced that it has upgraded its warehousing services by installing the latest Dock Equipment. This is critical to delivering the level of services that are expected by their clients. It actually has an impact on the entire operation, as Dock Equipment affects safety and productivity. There are no receiving needs that cannot be accommodated in this Houston Warehouse.
The company reports that the use of older types of equipment in warehousing can easily cause workplace accidents to its employees, compromise the integrity of stored goods, and cause prices to rise as a result of increased liabilities. This is why Adam's Distribution employs: Guard Rails, Conveyers, Lifts, Overhead Access Doors for oversized shipments, Bumpers and Dock Approach Pads, Security Gates, Restraints, Ramps, and Scales. Warehousing Services are initiated the moment cargo arrives at the Docks, and a trained Adam's employee begins the process of Cargo Arrival Protocol.
Once the inbound shipment is entered into the Computerized Inventory Control System, it can be tracked anywhere in the facility, at any time, all the way to when it reaches its destination. The clients have made it very clear to the staff at Adam's: The main priorities are Quality, Safety and Efficiency. With this in mind, Adam's personnel are thoroughly trained in all aspects of material handling, and this includes Cross Dock Distribution, which involves the special handling techniques of moving goods from one dock to another without damage.
The climb to the top of the Warehouse and Distribution Industry in Houston took over 30-years, and a lot of dedication. This is why under the leadership of Alfred L. Adams, Jr., this company has grown to be the largest family owned warehouse in Texas. Perhaps it is the result of their Mission Statement, as told by Al Adams, Jr.: "Our goal is to help every one of our customers become leaders within their specific industry in the Texas marketplace. Though every business may have a vision, it takes an experienced logistics service to help carry out that vision. Our full service distribution is custom-tailored to meet our customers' needs."