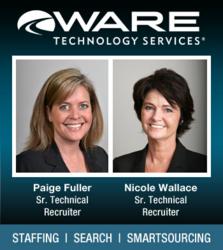 The strong Houston economy, led by its oil and gas industry, has generated increased demand for exceptionally talented engineers and technicians.
Minneapolis, MN (PRWEB) February 08, 2012
Ware Technology Services, an Atterro company, is expanding its professional staffing business in the Houston region with a downtown office in The Galleria. Ware recruits and places highly qualified engineering and information technology professionals in both interim and permanent positions in Texas companies and throughout the U.S. Its broader presence in Houston is in response to the high demand for top engineering and technical talent in the oil and gas industry.
Ware's Senior Technical Recruiters, Paige Fuller and Nicole Wallace, work directly with their oil and gas industry clients to pinpoint the qualifications required for positions including electrical engineers, industrial engineers, process engineers, project engineers, mechanical engineers, manufacturing engineers and quality engineers, as well as supply chain buyers/ planners and materials managers.
Paige Fuller has been a senior technical recruiter with Atterro/Pro Staff since 1995, delivering professional staffing services in the Houston market and, in that capacity, Fuller worked on-site with a Houston-based major oil and gas services organization with global operations, gaining in-depth understanding of the importance of timely access to quality engineering talent to a company's performance.
Nicole Wallace has been sourcing technical and engineering professionals for more than 20 years and specializes in using advanced search methodologies to engage candidates who possess the hard to find skills demanded in emerging and high growth markets. Before relocating to Texas from England, Wallace spent more than 10 years focused on SAP skills globally.
Paul Sharps, Executive Director of Ware and Vice President of Atterro SmartSourcing Architecture, states, "The strong Houston economy, led by its oil and gas industry, has generated increased demand for exceptionally talented engineers and technicians. We believe our Ware recruiting team brings unparalleled experience, quality and commitment to meet this challenge for Houston area businesses."
The Ware Galleria office is located at 1800 West Loop South, Suite 1780, Houston, TX 77027. Contact the Ware team by phone at (832) 604-3008, or by email: houston(at)warets(dot)com.
Ware Technology Services is a division of the Atterro Human Capital Group. Atterro offers interim staffing, search and SmartSourcing services to national and global customers. Atterro services are delivered by experienced industry professionals utilizing the latest research, recruiting technology and assessment tools. Atterro delivers its services through its four specialty brands—Digital People for creative and marketing, Hunter Hamilton for finance and accounting, Pro Staff for administrative and light industrial, and Ware Technology Services for engineering and information technology. To learn more, visit Atterro.com.
###