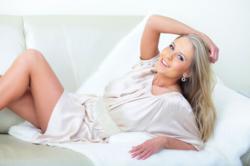 Female members can call in to unwind and have fun with no strings attached and now with spring in full bloom we've got even more callers looking to meet up. It's a great time to be a man
(PRWEB) April 25, 2012
Weekly metrics show a steady increase in engagement (chattiness) on Red Hot chat lines. While the exact nature of the conversations are unknown, they are lasting longer than usual with multiple callbacks a week from various female members.
According to a recent study by researchers at the University of Tromso in Norway, women get more aroused during the spring and summer months. Why? It has something to do with an increase in sunlight which in turn increases the amount of hormones that impact sexual desire. More light equals more randy.
A fortunate side effect of this seasonal affectation is a greater number of female callers on Red Hot Chat Lines, a chat line geared towards adults looking for a more casual dating scene. Spring is a time for new flings, more skin and ample opportunities in the form of multiple partners (even if only on the phone). Women are not looking to be tied down to one person right now.
"Those who use RedHot appreciate the fact that they can indulge in their fantasy lives anonymously," says Sean Ryan, Product Manager. " Female members can call in to unwind and have fun with no strings attached and now with spring in full bloom we've got even more callers looking to meet up. It's a great time to be a man!"
Instead of going out to bars and spending hundreds of dollars on drinks, men can head over to where women are already on the same page as they are. Men who call during this advantageous time increase their odds of getting exactly what they're looking for and how often they get it.
The increase in female callers began earlier this year due to the unseasonably warm weather experienced in March. While temperatures may have evened out a bit in April, the sunny skies guarantee that RedHot lines will be as hot as ever.
About Teligence
Teligence is the North American leader in voice-enabled social networking. Every month, millions of people across North America use Teligence chatlines to make millions of calls, connecting with real people for friendship, dating and fun. With a diverse product line that includes Interactive Male, Livelinks, Vibeline, RedHot Dateline, FonoChat and Lavender Line, Teligence offers a better way for everyone to make the connection that's right for them. For more information on Teligence or to arrange an interview, please contact Sean Ryan.