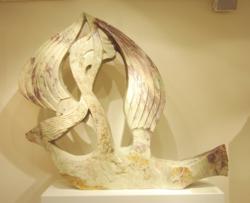 As an institution, we are embracing God's call to seek shalom in our city and the Angel of Peace is a true artistic expression of this commitment.
Portland, OR (PRWEB) December 21, 2012
Angel of Peace, an abstract interpretation sculpted in Cobalt Stone, is now part of the permanent art collection of Warner Pacific College and is prominently displayed on the second floor of Egtvedt Hall, welcoming visitors to the College and the entire Mr. Tabor campus community.
"We believe that this beautiful gift comes at a very special time in the life of Warner Pacific," said Dr. Andrea P. Cook, President of the College. "As an institution, we are embracing God's call to seek shalom in our city and the Angel of Peace is a true artistic expression of this commitment."
Artist, Tafunga Bonjisi began his sculpting career in 2000 under the guidance of his older brother and master sculptor, Lameck. His work soon caught the eye of art dealers worldwide. Bonjisi's sculptures maintain the organic nature of his chosen materials while incorporating dynamic movement through the use of long lines and expressive faces. The Angel of Peace was procured from Zuva Gallery, an award-winning destination for contemporary art, featuring one of the largest collections of contemporary stone sculpture from Africa in the United States.
David and Marilyn Nasman feel that the Angel of Peace captures the spirit of David's late wife, Dorothy, a gifted pianist who enjoyed traveling and experiencing new cultures. Although David and Marilyn had been discussing the possibility of honoring Dorothy's life with a memorial, their dream did not become a reality until one day when they decided to take a stroll through Zuva Gallery. "I knew that we had found the piece the moment I saw it," said David Nasman. "The other sculptures were dark but this one was so beautiful and filled with light, a truly fitting tribute."
David, who previously served on the Board of Trustees of Warner Pacific College, wanted to donate Angel of Peace to the College as a way of connecting Dorothy's legacy to the bright future that he sees for the institution and its students. Marilyn agrees, explaining, "Dorothy was the consummate mother. She had such love for her children, grandchildren and everyone that she met. We hope that this sculpture reminds students at Warner Pacific just how much they are loved."
The work was quietly unveiled to the College community on Tuesday, December 4, 2012 and has already opened the door to many conversations between students, faculty and staff as they experience the sculpture. A plaque will soon be added to display, explaining the significance of the installation. The Angel of Peace will become part of a growing art collection at the Mt. Tabor Campus, honoring the rich culture of artists who call Portland home.
Founded in 1937 in Spokane, Washington, as Pacific Bible College, Warner Pacific is a Christ-centered, urban, liberal arts college dedicated to providing students from diverse backgrounds an education that prepares them to engage actively in a constantly changing world.