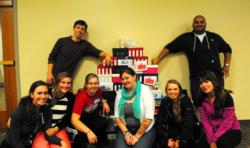 I am not sure I have words to express my gratitude for this movement. The level of commitment by the students from Warner Pacific is simply amazing.
Portland, OR (PRWEB) November 12, 2012
Last year, over 4,600 children spent at least one day in foster care in Washington, Multnomah, and Clackamas counties. Many of these children experience an extended stay through multiple placements in the protection of the Oregon Department of Human Services (DHS). Up to 75% of children entering foster care in Multnomah County must wait in an office for 1-2 hours while a social worker calls to find a suitable placement. This is usually a time of high anxiety for children, having been recently removed from their home and facing an unknown future.
The Welcome Box Initiative seeks to engage Warner Pacific students to serve these children who are experiencing this often painful transition. While the child is waiting, a social worker is able to give the child a colorful box of age appropriate items to occupy their time and provide a sense of comfort. Since many children enter their new foster homes with very few belongings, the psychological importance of owning nice possessions cannot be underestimated.
"Our campus is responding to the Welcome Box Initiative because it's a simple way to make a tangible difference in the lives of children who are hurting," said Adam Ristick, President of the Associated Students of Warner Pacific College (ASWPC). "Given that this is a brand new project, we've experienced a much higher rate of participation among students than we first expected and we're excited to discover how we can expand our goal and provide even more Welcome Boxes to local DHS offices."
After reallocating funds from their ASWPC budget to purchase supplies, Warner Pacific students had originally committed to assembling 100 Welcome Boxes during the month of November. However, less than two weeks into the month, they have already met that goal and are finding new ways to create additional boxes. Many campus clubs, sports teams, and residence halls have accepted the challenge and are donating time and money to create more Welcome Boxes.
"I am not sure I have words to express my gratitude for this movement," said Jamie Broadbent, DHS Human Services Manager. "The level of commitment by the students from Warner Pacific is simply amazing. They are making a difference!"
Assembling the Welcome Boxes, which include a coloring book or journal, art supplies, non-perishable snacks, kid-friendly toiletries, small toys, and a battery-powered flashlight and nightlight; is also a learning process for the students. Before creating the box itself, students walk through various stations where signs provide insight into the process a child entering a DHS office must face. From descriptions of how children are removed from their homes, to statistics about what the child will face in the days ahead; students are meant to get a glimpse of what these children will experience. After the box has been assembled, the final step is an emotional moment as students hand-write a personal note of encouragement to the child.
Adam and the leadership of Warner Pacific College hope to see the relationship between the College and DHS offices continue to grow, finding creative ways for the students at Warner Pacific to make a lasting, positive impact on the child welfare system in Portland.
Founded in 1937 in Spokane, Washington, as Pacific Bible College, Warner Pacific is a Christ-centered, urban, liberal arts college dedicated to providing students from diverse backgrounds an education that prepares them to engage actively in a constantly changing world.