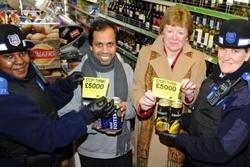 (Vocus) January 20, 2009
Warning stickers on off licence shelves are the latest initiative in a crackdown on alcohol sales to under-18s.
The stickers are part of an ongoing campaign and are aimed at adults who buy alcohol for children. Local police have been visiting off licences across the borough to hand out stocks of the fluorescent stickers for use on shelves where alcohol is displayed. They carry a clear warning that adults who buy alcohol for children risk prosecution and a fine of up to £5,000.
The campaign is being led by Greenwich Council with local police and is being supported by local traders. The sticker campaign is running alongside a continuing programme of test purchases in which young volunteers are sent in to stores to see if they will sell them alcohol.
During the latest exercise, last month, two volunteers aged 15 and 16 years went into 12 off licences. In four of the stores they were sold cider or lager without being challenged about their age or asked for photo ID.
The young volunteers were also able to buy cigarettes from a vending machine in a local pub. The five premises have had advisory visits in the last few months reminding them of their responsibilities, and further action is planned against them.
Councillor Maureen O'Mara, Greenwich Council's Cabinet Member for Neighbourhood Services, said:
"Adults who buy alcohol for young people are acting irresponsibly and potentially causing serious harm. This campaign aims to get that message home, as well as supporting traders who frequently complain to the council and police about young people gathering outside their shops and pestering adults to buy alcohol for them."
Greenwich Superintendent Brian Cherek, added:
"We will work closely with Greenwich Council to ensure that those who buy alcohol for young people are fined. This type of behaviour will simply not be tolerated. I hope that those who have assisted young people in buying alcohol in the past will think twice about doing so in the future."
For media information please contact David Harrison on 020 8921 5214. Email: david.harrison (at) greenwich.gov.uk
###