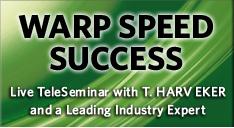 "If you want to thrive, you must adapt – and that means adapting the way you communicate to suit your customers' shorter attention spans. You have to learn to speak in sound bites." T. Harv Eker
San Diego, CA / Vancouver, BC (PRWEB) April 10, 2012
While experts worry about how technology, social media and an ever-increasing barrage of information seems to be shortening Americans' attention spans and how such a change might affect the country's future success, entrepreneurs have a different question: "How can we break through the clutter and get our customers' attention?"
The answer, says one multi-millionaire entrepreneur, is to drastically alter the way marketing messages are delivered.
"There's no question that attention spans are shorter, and no matter how much you lament that fact, it's not going to change," says T. Harv Eker, founder of Peak Potentials, one of North America's largest personal development training companies, and author of the New York Times best-seller, Secrets of the Millionaire Mind. "If you want to thrive, you must adapt – and that means adapting the way you communicate to suit your customers' shorter attention spans. You have to learn to speak in sound bites."
To help entrepreneurs and other business professionals learn to develop and deliver messages suited to short attention spans, Peak Potentials is pairing up with top media coach Joel D. Roberts to deliver a free teleseminar on Thursday, April 12, 2012. A former prime-time, KABC radio talk show host in the #1 radio market in the world, Los Angeles, Roberts consults with and trains top publishers, Fortune 500 companies, celebrities and best-selling authors how to use the principles, strategies and techniques that he learned as a broadcaster.
During "Sell More by Saying Less: How to Leverage 'The Language of Impact' to Magnetize Your Message, Captivate Customers, and Stand Out from the Crowd," Roberts will discuss how entrepreneurs and business professionals must adapt their communication to stand out and produce results in a crowded world. Participants will discover:

3 questions to ask when developing a unique selling proposition
The real business every entrepreneur is in … and how this defines a company
2 critical factors that determine one's power as a communicator
The critical function that many entrepreneurs outsource … and why it can sabotage their marketing
What entrepreneurs must provide first to get prospective customers to read a long salesletter or watch a long video (long copy is effective in converting prospects to customers … but only if they're engaged first)
The very first thing business owners must do – well – before they'll be able to get paid to solve problems
The one marketing tool that everyone should be using … and 2 key questions to ask before implementing it
Why it's critical – and entirely possible – to make a company sound unique, even if it has lots of competitors who do the exact same thing (such as in network marketing)
What entrepreneurs must get crystal-clear about before their companies will be able to earn significantly more money
One of the biggest selling mistakes that entrepreneurs make … and how it lowers their success rate and makes the selling process more cumbersome
"Sell More by Saying Less" is a Peak Potentials' Warp Speed Success tele-webcast. "The world is changing quickly. To stay competitive, continual education is important" says Eker. "Warp Speed Success events are a practical solution for busy entrepreneurs and high achievers who don't want to get left behind, because they deliver essential lessons in 70 minutes or less."
"Sell More by Saying Less" is a free virtual training program. Registration is required. To sign up, visit http://www.warpspeedsuccess.com.
# # #