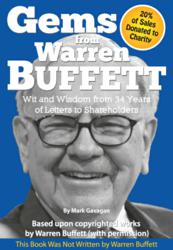 A lifetime of Warren Buffet's wit and wisdom in 122 pages
Mendham, NJ (PRWEB) August 16, 2012
Warren Buffett has granted permission to publish "Gems from Warren Buffett - Wit and Wisdom from 34 Years of Letters to Shareholders," a book based on 34 years of his iconic letters to Berkshire Hathaway shareholders, provided 20% of sales are donated to charity.
Author/entrepreneur Mark Gavagan wrote the entire book on spec - meaning he completed the book while having no idea whether or not he would be granted permission to use excerpts from Mr. Buffett's letters, which are protected by copyright.
The project was enormously time-consuming and could have resulted in an unpublishable book, had Mr. Buffett denied his permission. But according to Gavagan, it was a risk-free gamble: "The worst case scenario would have been countless hours spent consuming some of the most entertaining and educational business writing ever produced."
Gavagan continues "I think part of what won Mr. Buffett over was that the book's content captures the essence of his letters in an entertaining and digestible format. It's not another in-depth biography or investment tutorial. It's a quick, fun read that conveys many of Mr. Buffett's wittiest and most insightful thoughts."
Mr. Buffett granted permission for the book on the conditions that: (1) 20% of sales (not just profits) be donated to the Glide.org charity, which Mr. Buffett has personally supported in the past; and (2) the book's cover clarifies that Mr. Buffett did not write the book and that it is based on Mr. Buffett's copyrighted letters.
Sales and charity donation figures will be updated regularly at the book's website.
"Gems from Warren Buffet" is available in print or e-book ($13.95 / $6.99) through independent booksellers and the book's website. E-books are available for Amazon Kindle, Barnes & Noble Nook and Apple iBooks.
For more information about "Gems from Warren Buffett," please contact Mark Gavagan at 201-320-3208 or visit http://www.gemsfrombuffett.com.
###