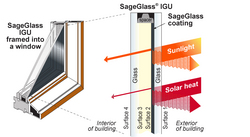 Sanford, ME (PRWEB) November 30, 2010
Wasco Skylight Products, Inc., one of the nation's largest skylight manufacturers, announced today it has introduced a new glass into its portfolio of high performance glazings – one with the ability to respond to fluctuating sunlight and heat conditions by electronically changing its tint. Known as electrochromic or "smart" glazing, the glass is considered by Lawrence Berkley National Laboratory (LBNL) to be "the next major advance in energy-efficient window technology" and holds the promise of transforming windows and skylights into a source of energy rather than an energy drain. According to the National Renewable Energy Laboratory, broad use of electrochromic glazing could save about one-eighth of all energy used by U.S. buildings every year and about 5 percent of the nation's total energy budget. "I'd like to see every window and skylight manufacturer offer this glazing because it's the type of innovation that will bring us closer to a sustainable energy future," said Jeff Frank, CEO of Wasco Skylights. "As manufacturers, that goal should be at the top of our list."
Developed by SAGE Electrochromics, Inc. using nanotechnology, SageGlass® reduces glare and solar heat gain while maintaining a constant view of the outdoors. When an electrical charge is conveyed through the glazing, a fine ceramic coating absorbs light and darkens. Reversing the voltage causes it to return to a clear state. Custom variations in the degree of tinting can be programmed into the glass at the factory, allowing for intermediate levels of darkness. Tinting can be activated with a switch or integrated into a building management system and utilizes less electricity per 1,500 sq. ft. of glazing than it does to power a single 60-watt light bulb. LBNL calculates that these glazings could reduce peak electric loads by as much as 20 to 30% in many commercial buildings.
Visible light transmittance for SageGlass ranges from 62% in its clear state to 3.5% in its darkened state, significantly outperforming most windows in commercial buildings, which by comparison typically transmit about 45% of visible light. At its darkest, the solar heat gain coefficient (SHGC) is .09 making it possible to install large expanses of glass without compromising thermal comfort or energy savings. Conversely, in the winter, when solar heat gain is desirable, the clear glass will provide a SHGC up to 0.48. In addition to protection from ultraviolet radiation, the glazing also blocks other portions of visible light that cause fading. As a result, SageGlass can provide 98% protection from fading for valuable furnishings and belongings.
SageGlass is GreenSpec® listed and can help owners achieve up to 23 LEED points in several categories. It is available for all double-glazed Wasco products, residential and commercial. More information on these skylights and Wasco's complete product offerings is available at http://www.wascoskylights.com.
Founded in 1935, Wasco is a family-owned company with New England roots and a determined drive to outdo the competition in performance, selection, and fast, trouble-free installation of innovative skylighting products.
###