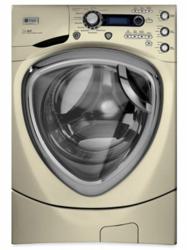 Having both that fresh-from the laundry feeling and a couple more hours of sleep is a huge bonus for today's busy lifestyles.
Hayward, CA (Vocus/PRWEB) February 11, 2011
Airport Home Appliance now carries the new Good Housekeeping award-winning GE Profile™ front load washer with Steam and SmartDispense™ technology. The washer features energy savings, an intelligent soap dispenser option, and an "Overnight Ready" cycle, which keeps clothes moving gently for up to eight hours to remove moisture content while the family sleeps.
"Having both that fresh-from the laundry feeling and a couple more hours of sleep is a huge bonus for today's busy lifestyles," said Jennifer Schoenegge, GE product manager from the Clothes Care division. "Now you don't have to sacrifice your sleep to get the laundry done."
An optional SmartDispense™ pedestal stores of up to 6 months of detergent and automatically dispenses detergent and fabric softener based on the size of each load, the soil level of clothing, water hardness, and fabric or cycle type. The pedestal is sold separately from the GM Profile™ front load washer.
Good Housekeeping, the most trusted online source for advice about food, diet, beauty, health, family, and home, has added the GE Profile™ to its list of VIPs, or "Very Innovative Products" for being the is the first single unit in the industry with the ability to wash and dry small loads in an overnight cycle.
"This represents an outstanding achievement, as the winners of our VIP Awards are chosen from thousands of products," said Miriam Arond, director of Good Housekeeping Research Institute. "Our VIP Award winners are products that are ingenious breakthroughs and solve everyday problems in new and exciting ways."
As part of their "Save Green" national program, Airport Home Appliance customers who purchase a GE Profile™ frontload steam washer and dryer through March 31, 2011 can save up to $100.
About Airport Home Appliance
Airport Home Appliance is an authorized retailer of 80 brands of top-name appliances—more than any other store of its kind in the San Francisco Bay Area. In addition to appliances, they carry faucets and sinks in their San Francisco Bay Area showroom. All retail locations are Diamond Certified, meaning they have earned the highest marks in customer service and consumer satisfaction.
In addition to GE products, Airport Home Appliance sells Frigidaire washing machines and Whirlpool washing machines in the San Francisco Bay Area. Airport Home Appliance currently has dryers on sale, refrigerators on sale, and stoves on sale at their locations in the East Bay (Hayward), the Peninsula (Redwood City), and San Jose.
For more information about the GE Profile™ front load washer call Airport Home Appliance at (510) 695-2546 or visit http://www.airportappliance.com
###