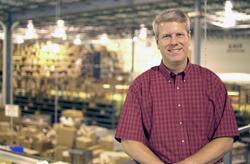 If you want to give your washer a spring cleaning, wipe the painted steel or porcelain-coated steel cabinet with a little dish detergent and a damp rag. For stubborn stains, a non-abrasive cleanser can be used on porcelain
Canton, Mich. (PRWEB) March 17, 2008
A welcome sight after a gray winter, colorful spring clothes come out, as dark and wooly clothes go into storage. To process the extra laundry loads, washing machines should get a quick evaluation to make sure everything is in peak running order.
"First, to avoid water damage in your home, check washing machine hoses for leaks, blisters or ruptures," says Chris Hall, president of RepairClinic.com, Canton, Mich. "Don't overload your washer and try using a mesh laundry bag for delicate clothing. Check pockets for small chains or metal objects to avoid damaging your washer."
RepairClinic.com provides DIY consumers with washing machine parts , accessories, and cleaners—in addition to parts photos, appliance diagrams, and free information and repair help online. Some basic maintenance steps for a washing machine include:

Check water-fill hoses periodically for wear, blisters, or weaknesses. If a hose ruptures, large quantities of water could gush out—and the hot water hose can contain water hot enough to scald someone nearby. Most manufacturers recommend replacing the hoses every five years. High quality stainless steel hoses are a better alternative.
Make sure your washing machine is level. All four legs should be touching the floor to avoid vibration, rocking, and walking of the washer during the spin cycle. The front legs should be adjusted to achieve the proper height. Then tighten the lock nut up against the body of the machine. If the machine has "self adjusting" rear legs, set these legs by tilting the machine forward (with help!) three to four inches off the floor and then setting the machine back down. If it doesn't have self-adjusting legs, adjust them the same as the front.
Monitor and clean lint build up. Most washing machines collect lint and send it down the drain. However, Maytag washing machines can be different because they collect lint in the center tube of the agitator. And, some older GE washers have a lint tray that sits on top of the agitator. Lift out the tube or tray and clean it periodically. Other machines have a lint filter near the top of the tub; slide it out for cleaning and reinsert. The owner's manual indicates the lint filter type if a consumer is unsure.
"If you want to give your washer a spring cleaning, wipe the painted steel or porcelain-coated steel cabinet with a little dish detergent and a damp rag. For stubborn stains, a non-abrasive cleanser can be used on porcelain," explains Hall. "If there is a problem with your washing machine—such as, it won't drain, spin, or fill properly—go to http://www.RepairClinic.com and chose 'repair help' at the top of the page."
To provide on-air repair help for major home appliances for the kitchen and laundry room, RepairClinic.com's vice president of purchasing and technical services, John Sowden, hosts "The Appliance Repair Show" every Sunday on News/Talk 760 WJR Radio in Detroit from 9 a.m. to 10 a.m. ET. DIY listeners across the U.S. can access the popular show via the radio station's "Listen Live" area on their website, wjr.com.
Founded in Canton, Mich., in 1999, RepairClinic.com® is the most comprehensive online resource for do-it-yourself home appliance repair help, parts and information. The site features more than 80 appliance brands—including Kenmore, Whirlpool, Maytag, GE, Frigidaire, and LG—across 16 appliance types (e.g., washers, dryers, refrigerators, stoves, ovens, and dishwashers). Do-it-yourselfers use the intuitive database, PartDetective®, to find the part they need or the leading-edge service, RepairGuru®, for customized, free repair help. Appliance parts are stocked in a 72,000 sq. ft. facility and shipped the same business day. Visit http://www.RepairClinic.com for more information.
# # #