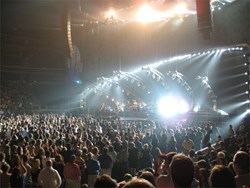 Washington, D.C. (PRWEB) September 17, 2013
The Verizon Center in Washington D.C. has an impressive lineup this season. Fans can enjoy the convenience of location in the heart of downtown D.C., with some of the most popular current artists performing at the 20,000-seat venue as part of their fall concert schedules.
September 22nd the Verizon Center will host Michael Buble as he promotes his newest album, To Be Loved. The Canadian singer-songwriter rose to fame with his 2005 album It's Time, and his blend of pop and jazz have gained him a widespread audience.
October at the Verizon Center will see Nine Inch Nails on the 18th. The industrial rock band headed by Trent Reznor promotes their album, Hesitation Marks, their first album released on a major label in six years. The end of the month will see Drake, Miguel & Future (October 31st). Drake's newest album is still forthcoming, but he's garnering hype in his 41-date North American tour with support from Miguel and Future.
November performers at the Verizon Center include Macklemore & Ryan Lewis on the 18th. Following their VMAs performance, the rap/hip hop duo are promoting their album The Heist including singles like "Same Love." Kanye West tickets are available for his show on the 21st as part of his seven-week "Yeezus" tour, Kanye's first solo tour since 2008 which will feature artist Kendrick Lamar. Following that on the 24th is Pink, celebrating her newest album, The Truth About Love.
Moving into the winter season, the Verizon Center has two artists in their lineup sure to sell quickly. Italian tenor singer Andrea Bocelli will perform on December 12th. Rounding out the remainder of their 2013 lineup is Beyonce on December 18th as part of her Miss Carter Show World Tour.
With a wide range of popular artists spanning several music genres, Verizon Center Tickets are sure to sell quickly. SuperStarTickets has seats available to all upcoming shows, including suite tickets for select performances.