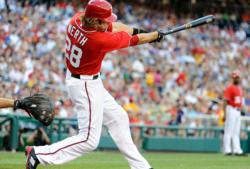 The Nats appear to have a playoff spot locked up, and are looking forward to postseason baseball in the nation's capital for the first time in almost a decade...
Seattle, WA (PRWEB) September 22, 2012
The Washington Nationals currently own the best record in Major League Baseball, as TicketHunterOnline announces a full 20% reduction of all 2012-2013 Washington Nationals game tickets with promo "NATS".
The Nats appear to have a playoff spot locked up, and are looking forward to postseason baseball in the nation's capital for the first time in almost a decade.
But why not take a quick glance into the future? After all, 2013 was supposed to be the year the Nationals put it all together. Now that they have arrived a year early, hopes are even higher for continued success.
2012 has been defined by stellar starting pitching, but after a superb second half of the season with their bats, there is reason to believe the Nats could enjoy a truly spectacular season at the plate next season.
At this time, there is a completely realistic possibility that the Washington Nationals could slug more home runs than any team in the league. More than the Yankees, and more than the Angels.
The Nationals have hit the second-most home runs in the N.L., and that's with a 19-year-old rookie in Bryce Harper, injured veterans in Michael Morse, Jayson Werth, and Ryan Zimmerman, and instability at the catcher position. The Nationals could have even more gopherballs than they already do, if only they had stayed healthy for the entire season.
Barring excessive injury, the Nationals could have five 30-HR hitters next season, and four 20-HR hitters.
Adam LaRoche, Ian Desmond, Ryan Zimmerman, Michael Morse, and Bryce Harper all have the ability to hit for enormous power when healthy. Those would be the 30-HR guys.
The 20-HR guys could be Danny Espinosa, Wilson Ramos, Jayson Werth, and Tyler Moore.
Desmond seems to have turned a huge corner and found an incredible power stroke. Had he been healthy this season, he would have well over 30 home runs.
Meanwhile, Zimmerman has been the Nationals' best hitter since the All-Star break, and if you extrapolate his numbers post-injury (and let's forget about the time he spent getting his timing back), he could have well over 30 as well.
Morse has already hit 30 in a season, but he was also taken down by the injury bug. In fact, I believe that Morse is a lock for 30 next season, should he remain healthy.
And Harper has 18, and that's with a prolonged slump in the middle of the year where he wasn't hitting anything. The sky is the limit for Harper. I predicted he'd have 17 home runs this year, he's already proven he can do better. I expect him to go over 30 in a full season next year.
As for the 20-HR guys, we start with Danny Espinosa. He may frustrate with his tendency to strike out, but he's almost a lock for 20 homers in a full season. He really started pounding the ball this year once he got comfortable.
Wilson Ramos hit 17 as a rookie before tearing his ACL this season. As the full-time starter next year, there's no reason to think he can't hit 20.
Jayson Werth has been out for a significant part of the season, but he's as sure a bet to get 20 homers as any guy in the league.
The 2012 version of the Nationals has been spectacular, but the 2013 version has a chance to be even better. Not many teams can boast legitimate top-to-bottom power.
The Nationals may lack the bat of a Ryan Braun or Josh Hamilton, but they may have the most well-rounded and dangerous lineup in all of baseball when healthy.
The full Washington Nationals Game schedule for the rest of the 2012-2013 season, as well as tickets, can be referenced at TicketHunterOnline.com.