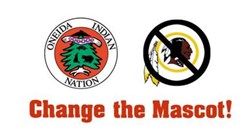 Oneida Nation Homelands (NY) (PRWEB) October 28, 2013
Just two days before his scheduled meeting with the NFL on Wednesday, Oneida Indian Nation Representative Ray Halbritter has released the full text of a speech he will deliver today at the United South & Eastern Tribes' annual meeting in Cherokee, North Carolina.
USET collectively represents 26 federally recognized Tribes at the regional and national level to promote Indian leadership, improve the quality of life for American Indians, and protect Indian rights and resources on Tribal lands.
Halbritter and other representatives for the Oneida Indian Nation are scheduled to meet this week with top officials of the National Football League about the Nation's Change the Mascot campaign.
The full text of Halbritter's prepared remarks is available on the Change the Mascot website.