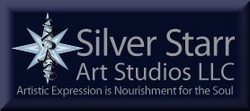 Ferndale, WA (PRWEB) September 16, 2008
WHAT:   Silver Starr Art Studios LLC (SSAS) Features Captivating Works by DC High School Student and 5 Nationally Renowned Artists
  WHERE: Lisa Jones and the Collective's 2nd Annual Washington DC International Arts Expo at the Washington DC Convention Center 801 Mount Vernon Pl N.W. Washington, DC 20001
  WHEN: September 19-21, 2008 6:00 p.m. - 9:00 p.m. (Fri.); 10:00 a.m. - 9:00 p.m. (Sat.); 12:00 p.m. - 6:00 p.m. (Sun.)
  WHO: SSAS Artists Danny Broadway, Desiree Sterbini, Jamaal Sheats, Angela Ma, and Mia Browne SSAS, for almost a decade, has offered a wide array of services dedicated to empowering artists, furthering artists' professional careers, assisting businesses and non-profits, and ensuring that the community experiences invaluable fine arts and entertainment endeavors on a worldwide basis. Today, SSAS announced its sponsorship of High School Student Mia Browne and exhibition of Mia's captivating artwork along side SSAS Visual Arts Division nationally acclaimed artists' Danny Broadway, Desiree Sterbini, Jamaal Sheats, and Angela Ma whose paintings deservingly grace the walls of numerous residential and corporate locations at the Lisa Jones and the Collective's Annual Washington DC International Arts Expo.
Experience a paradigm shift as over 100 amazing and celebrated artists, including nationally renowned artists Lisa Jones, Matthew Rice, and an array of emerging student artists, from all over the world bring their beautiful creations to Washington DC for you, your family, and friends to enjoy. Viewers will experience eye-catching informative seminars, workshops, galleries, live entertainment, and special charitable events. For tickets, please visit http://www.washingtondcartsexpo.com.
SSAS is headquartered in Virginia with operations in California, Florida, Georgia, Illinois, New York, and Washington, D.C. Its six divisions include Visual Fine Arts, Music, Literary, Film, Graphic & Illustrations, and Website Design. For support of its invaluable mission, SSAS sends a special thank you to its premium SSAS Sponsors: API, Avillion, Cameron Perks, Carpetland, Classic Caterers, FedEx, Kilpatrick Stockton, Nusta Spa, Paramount Pictures, Rémy Martin, Sela Press, Suntrust Bank, The Captured Life, Trump World Towers, TFI Investments, Westbourne Environmental, and Whole Foods. For more information, please visit http://www.silverstarrartstudios.com.