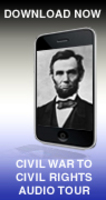 We are thrilled to offer Washington visitors and residents these free audio tours
Washington, DC (PRWEB) February 24, 2009
There's a new, hip way to explore downtown Washington DC: with your iPod. Cultural Tourism DC is proud to announce the launch of Cultural Tourism DC's Audio Journeys, a series of free, self-guided audio tours. The Civil War to Civil Rights Audio Tour leads listeners along the Downtown Heritage Trail, telling Washington's greatest stories in dramatic fashion. The three-part tour is available for free download on CulturalTourismDC.org , and as free podcasts on iTunes.
"We are thrilled to offer Washington visitors and residents these free audio tours," said Linda Donavan Harper, Executive Director of Cultural Tourism DC. "We want to help people experience the authentic stories and the personalities of our city, a place where the federal meets the local, and these tours are a perfect way to do that."
The Civil War to Civil Rights Audio Tour features Korva Coleman of National Public Radio as the host narrator and "tour guide." The tour also present a mix of Washingtonians, from professional athletes to street musicians, who appear as guest narrators along the way. Pulsing musical scores, ambient sounds, and creative effects make listeners feel as though they are walking through a virtual movie.
The tours reflect a popular trend in tourism and historic preservation: downloadable audio tours designed to be used on an iPod (or other digital player). The iPod as personal tour guide allows listeners to go at their own pace, and allows them to blend into the crowd and not look like a conspicuous tourist.
"It's using today's technology to experience what history really is," says Rob Pyles, Creative Director of Audissey Guides, the company that produced the tours. "History isn't boring; it's about drama and emotion and pain, and that's what these tours highlight."
The three tours follow the Downtown Heritage Trail, a self-guided walking trail of historic and cultural sites created by Cultural Tourism DC. The tours follow the theme of "Civil War to Civil Rights", and cover the epic history at the heart of the city - from the time of Abraham Lincoln to the Reverend Dr. Martin Luther King, Jr. Tour highlights include:

Booth's Escape Route: Stand in the lonely alley where John Wilkes Booth fled after the assassination of Abraham Lincoln.
Asbury United Methodist Church: Hear the story of two enslaved sisters' failed escape attempt - and listen to an interview with their modern-day descendant.
The Friendship Arch: Stand in the heart of Chinatown - and get a personal welcome from the neighborhood's "honorary mayor."
There are two ways to get Cultural Tourism DC's Audio Journeys:
1. Download them for free at CulturalTourismDC.org
2. Download the free podcast on iTunes.
About Cultural Tourism DC
Cultural Tourism DC is an independent nonprofit coalition of more than 200 culture, heritage, and community organizations throughout the nation's capital. We help Metro-area residents and visitors experience Washington's authentic culture and heritage. For more information, visit CulturalTourismDC.org or call 202-661-7581.
About Korva Coleman
Korva Coleman is an award-winning journalist for National Public Radio. She is a regular contributor to All Things Considered, Morning Edition, and Weekend Edition.
Coleman graduated from Howard University in 1989.
About Audissey Guides
Audissey Guides is a pioneer in the high-tech tourism industry, allowing travelers to use their mobile devices as personal tour guides. Audissey creates hip, entertaining audio and video walking tours that launch travelers off the beaten path - and into the soul of a city. Visit AudisseyMedia.com
###