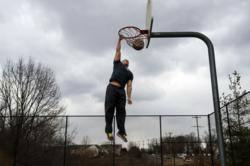 (PRWEB) April 10, 2013
For the past few weeks, Brandon Todd has been training Lenny Bernstein, one of the journalists of the highly reputed news outlet, The Washington Post. He got the itch to start training while watching so many youngsters dunking in the NCAA tournament.
Lenny states in the Post Article, "By the time you've reached my age, your jumping days are pretty much over. Kids jump (and always appear to have a good time doing it). We adults use step-stools and ladders on those rare occasions when we must leave the ground. Admittedly, little daylight passed between the bottoms of my shoes and the floor even in my younger days, when I played a lot of pickup basketball in high school and college. I've been thick-legged and earth-bound since I can remember, conditions that have only grown worse as I've reached my mid-50s. Nevertheless, in honor of the young men skywalking across my big screen in the NCAA Tournament these past few weeks, I decided to determine whether my vertical challenges are immutable or might be addressed by the right kind of training. That's sort of how I came to meet Brandon Todd. Todd had e-mailed me just a week or two earlier, trying to interest me in writing about his prowess in this area. At 5-foot-5, 205 pounds and 27 years old, Todd can still dunk easily, something he says he has been doing since he was an adolescent."
Brandon has not only created a program, but an easy to use iPhone app. FlytRight has sold over 15,000 copies in a three-month span, and has been gaining momentum each month. FlytRight is in the top 200 grossing Health and Wellness Apps in the Apple iTunes App store. Positioned as the go-to app in training for vertical explosion, learning to jump higher, learning how to dunk, and body building for plyometric based sports like basketball, volleyball, and track and field.The app is available in the app store for free, with additional paid content. Here is the download link.
The app as described focuses on modifying the full body with plyometric exercises, weight training, upper and lower body focus, and lean muscle growth. All of which is necessary to play sports at a professional level. Players like Michael Jordan, Vince Carter, Kobe Bryant, and Dominique Wilkins, weren't just great dunkers; they were great athletes. Todd states, "To improve your level of athleticism, you need three things: Fundamentals, a strong Foundation(body), and unwavering Determination!" Short dunkers like Spud Webb at 5'7, and three-time winner Nate Robinson at only 5'9, spent countless hours improving their bodies to achieve their incredible feats.
The workouts are intense, and they certainly aren't for people looking for a quick pill to jump higher. Lenny describes the workouts as "enough to trash the lower half of my body and my lower back — in that good way you feel after a completely exhausting workout."
As a kid, Todd bought every junk science and snake-oil program that promised to improve his leaping ability, but he didn't have his epiphany until, by chance, he happened to see video of an Eastern Bloc weightlifter jumping for joy after a successful lift. The guy must have weighed 300 pounds, Todd recalls, and was probably 40 inches in the air. That's when he realized what it was going to take to get way up. He began reading everything he could about jumping workouts and eventually cobbled together his own program.
Todd told Lenny that, with only a little variation, he would have put Lenny through similar training if the goal was to become a better football player, baseball player or golfer. "We create explosion, endurance and quickness," Todd says, "which is deadly in any sport."
The app is no quick fix to dunking. With over 22 weeks of workouts in the full program, a significant amount of work is being expected by the user. The result is a better body for sports. For players between 5'8 and 6'4, the FlytRight program can make the difference between getting drafted to a great college program, to even the chance of playing in the NBA. Todd showcases a few of his spectacular dunks, and some of the workouts that transformed his frame from a scrawny 120lbs to 200lbs of pure muscle in this video. There are a lot of expectations placed on even taller players. 6'3-6'6 players are expected to be great rebounders, yet many of them do not have the lower body strength necessary to jump high and fight for the rebound. FlytRight can help.
Brandon Todd, originally from Ohio, resides near the Washington D.C. metro area, and trains at local facilities and in-home. Todd has played with many greats that are now in the NBA like Lebron James, Kevin Martin, Omni Smith, Danny Gibson and many others. He was 1st team all-Ohio alongside Lebron James, playing basketball with him several times. He currently trains many athletes that play in the NBA, NFL, and in other professional sport arenas in the US, Europe, China, Japan and Australia. You can learn more on his website, or his Wikipedia page here: http://en.wikipedia.org/wiki/Brandon_Todd