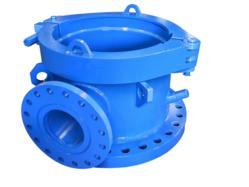 "The Marcellus and Utica natural-gas industry has changed everything, and custom work is the new standard."
- Rick McKinney
Washington, PA (PRWEB) February 13, 2013
Washington Rotating has recently custom-engineered and manufactured the three largest-diameter wellhead components the company has ever produced.
Washington Rotating specializes in the manufacturing of rotating control diverters for the oil, gas and geothermal industry. The rotating control devices are designed to seal off the drill string components continuously and divert all cuttings and debris away from the rig. Washington Rotating manufactures both custom and off-the-shelf components.
"We built these new rotating devices from the ground up for a geothermal driller working in Indonesia. Even though the driller is halfway around the world, they keep coming back to us when they need reliable solutions to one-of-a-kind challenges," says Rick McKinney, Washington Rotating's operations manager. A custom rotating control diverter was required for this international driller's needs. Washington Rotating's team engineered and built a custom 30-inch flanged bowl, a 36-inch slip-on and a 40-inch slip-on. Each of the precision-engineered components is exceptionally massive, McKinney says. With its adapter assembly, the bowl weighs in at about 3,000 pounds. The 36-inch slip-on, with adapter, shipped at 2,975 pounds, and the 40-inch slip-on, adapter included, weighs 1,200 pounds.
According to McKinney, special orders are making up an increasingly large share of Washington Rotating's business. "It's the direction the industry is headed, and that's where Washington is headed as well. We're continually refining our processes and equipment, so we can tackle these oversize jobs more efficiently, and cut down on lead times, too."
The components were fabricated for a geothermal application, but McKinney says their designs would work equally well in gas or oil drilling. "The Marcellus and Utica natural-gas industry has changed everything," he notes. "The whole industry has become more sophisticated and more demanding, and custom work is the new standard. That's a perfect fit for Washington Rotating, because 'custom' is all in a days work. It's what we do."
Washington Rotating Control Heads, Inc., is a customer-driven, technically advanced manufacturer of both off-the-shelf and custom rotating control devices, diverters, and other wellhead components for oil, gas, and geothermal drilling, based in Washington, Pa.
The Washington Rotating website offers full information at http://www.washingtonrotating.com/ or call 724-228-8889.
Rental of Washington Rotating Equipment can be arranged through their distributor: Arch Rental, http://www.archrental.com, (724) 228-1220.