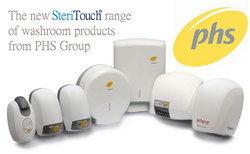 Abertillery, UK (PRWEB) June 16, 2008
The PHS Washrooms SteriTouch Range includes paper towel dispensers, hand dryers, toilet roll dispensers, toilet seat sanitisers and push and auto soap dispensers. All products in the range now contain, as standard, SteriTouch, an anti-bacterial additive that has been proven to significantly reduce the spread of germs such as e-coli, salmonella and MRSA. SteriTouch is incorporated into all of the touchable areas of the unit, making PHS' SteriTouch Range the most hygienic in the marketplace.
The necessity of improving hygiene in the workplace has been highlighted by a recent survey of Facilities Managers. The 19th PHS Quarterly FM Survey showed that office cleaning routines and hygiene practices fall short of requirements, given the increase in 'germy' risk factors like hot-desking and eating meals at desks. Most FMs (65%) believed that hygiene standards and hygiene practices at work were an important contributory factor in the spread of germs and staff sickness and, correspondingly, 61% said that their organisations were very concerned about maintaining good hygiene standards.
PHS Washrooms has developed the SteriTouch Range for each key area within the washroom:

In the cubicle - toilet roll dispenser and toilet seat sanitiser
At the sink - push and auto soap dispensers, and
For hand drying, hand dryers and paper towel dispenser
Huw Durban, Director of SteriTouch explains: "the SteriTouch technology provides long term antimicrobial protection. SteriTouch antimicrobial plastics and coatings use an innovative technology which harnesses the natural sterilising properties of silver. In laboratory tests, SteriTouch kills 99.99% of bacteria, and it is widely used within the NHS where ionic silver is an important tool in the battle against 'superbugs' such as MRSA, e-coli and salmonella".
MD of PHS Washrooms Ian Osborne adds, "Washroom hygiene standards is a key area that affects all organisations as well as the often reported issues in hospitals and schools. Through our SteriTouch range we are responding to the needs of our customers who are demanding increased hygiene protection in the washroom environment. We are delighted to be the first to offer SteriTouch antibacterial protection as standard across our core range of products."
###