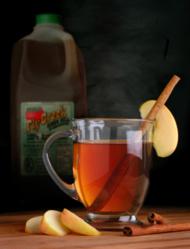 Wassail is a great use of our award-winning cider for experiencing the traditions of the past during the hectic holiday season, states Mill co-owner Brenda Michaels
Fly Creek, NY (PRWEB) September 30, 2011
Holiday time is the season for the Fly Creek Cider Mill to feature wassail, the traditional cider-based holiday drink. Tastings and spice mixes are offered on these special weekends from 10:00 until 4:00.
Steeped in tradition and legend, wassail dates from the 1300's when sharing a pot of holiday wassail was a community event. The word evolved from the Old English "waes hael" meaning good health. It was the custom to drink and shout again "Waes Hael!" before passing the bowl on to the next eager participant. Wassailing became a tradition as carolers carried bowls of hot wassail for good health, refilling them from neighbor's own simmering pots of wassail.
It is this celebration of friends and holiday spirit that prompts the Fly Creek Cider Mill to feature wassail and its preparation. "Wassail is a great use of our award-winning cider for experiencing the traditions of the past during the hectic holiday season," states Mill co-owner Brenda Michaels. Mill visitors learn how to prepare wassail several different ways with a variety of different pre-mixed spice blends. Available too, are wassail gift mixes, a good way to spread holiday cheer with friends and family.
Wassailing Weekends start November 12 and run through December 19 when the Mill closes for the season. The Mill will re-open for its 156th season on March 30, 2012. The Mill's On-Line Store is open year round.
Our favorite Holiday Wassail recipe:
Holiday Wassail/Hot Mulled Fly Creek Cider
1/2 cup brown sugar
dash or two of nutmeg
1 tsp. Whole Cloves*
3 inch cinnamon stick*
1 tsp. Whole Allspice*
1/2 Gallon FLY CREEK CIDER
Combine Fly Creek Cider Mill CIDER and all ingredients in a large saucepan or crock pot. Slowly bring to a boil. Cover and simmer 20 minutes. Remove spices. Drop orange and apple slices on top. Simple, easy and delicious! Serves 8 people.
*available as a pre-prepared mix in bulk or teabag form from the Mill or its on-line store.
###