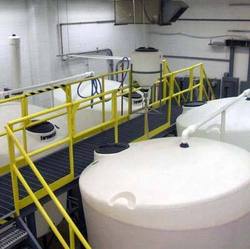 This represents a major breakthrough in Ethanol production, significantly reducing water usage and addressing one of the primary community concerns regarding ethanol plants
Burnsville, MN (PRWEB) March 6, 2008
A state of the art waste to ethanol process was recently introduced by Diversified Ethanol Corporation, a Burnsville, Minnesota clean tech innovator. Diversified Ethanol designs and builds small scale, modular ethanol plants that utilize existing waste as feedstocks which can be converted to ethanol or biodiesel. For example, using their proprietary technology, breweries, beverage recycling and food processing facilities can now convert their liquid waste into ethanol and a new revenue stream. Design work has been completed and construction to begin soon on a 5 million gallon per year plant for a major soda recycler in Southern California.
The company's award winning "Butterfield Closed Cycle System"™ utilizes several technologies, including ElectroHesion™, a proprietary water recycling system that reduces water use by up to 85%. ElectroHesion™ effectively separates the solids from the process water, insuring that the majority of the water can be infinitely recycled. The unique design of the ElectroHesion uses a single chamber, continuous flow through design, that can treat from 10 to 2500 gallons per minute and uses a fraction of the electrical energy required by other systems.
Diversified Ethanol's innovative technologies provide solutions to two of the biggest challenges facing conventional Ethanol production: the extensive use of water and the expensive, fuel intensive, crop-based feedstocks such as corn. The "Butterfield Closed Cycle System"™ solves both problems by recycling most of the water and converting existing and inexpensive waste to ethanol.
For example, according to a recent article in USA Today, city officials in Champaign and Urbana, ILL were concerned when a proposed ethanol plant nearby would require about 300 million gallons of water for processing the product and cooling equipment, drawing from the aquifer that supplies both cities.
Furthermore, recent studies quoted by Science Magazine and other sources are now reporting that conventional ethanol production actually contributes more greenhouse gases than gasoline when you factor in land use and the fuel intensive growing of crop based feedstock. Also adding to fuel cost is the necessity to truck that ethanol across country from the Midwest to the markets on the east and west coasts. However, most of these same studies conclude that ethanol from waste is still a viable alternative.
There is a growing interest in on-site waste to ethanol production technologies, that can convert waste products into ethanol. From citrus in Florida to wood chips in the Northwest to potato waste in Idaho, each part of the county has waste streams that can be converted to energy using cellulosic and other innovative forms of production. This trend toward using various waste products for ethanol eliminates the use of fossil fuel intensive crop based feedstocks. Furthermore, being localized, these systems also remove the need to ship the ethanol across country, further increasing the efficiency of these sources of alternative energy.
"This represents a major breakthrough in Ethanol production, significantly reducing water usage and addressing one of the primary community concerns regarding ethanol plants", says Bob Johnson, CEO of Diversified Ethanol. "And using existing waste products as feedstock and delivering Ethanol directly to local communities, eliminates the problems associated with the more fuel intensive crop based feedstocks, and more effectively reduces greenhouse gases."
Diversified Ethanol is a wholly owned subsidiary of Greenbelt Resources (Pink Sheets: GRCO). For more information, see: Diversified Ethanol
This press release does not constitute an offer of any securities for sale. This press release contains certain forward-looking statements. These forward-looking statements involve certain risks & uncertainties that could cause actual results to differ, including, without limitation, the company's limited operating history & history of losses, the inability to successfully obtain further funding, the inability to raise capital on terms acceptable to the company, the inability to compete effectively in the marketplace, the inability to complete the proposed acquisition and such other risks that could cause the actual results to differ materially from those contained in the company's projections or forward-looking statements. All forward-looking statements in this press release are based on information available to the company as of the date hereof, and the company undertakes no obligation to update forward-looking state ments to reflect events or circumstances occurring after the date of this press release.
###