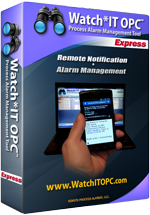 Watch*IT OPC Express with Mobile lets you see shop floor data in your hand
Syracuse, NY (PRWEB) September 21, 2011
Remote Process Alarms, LLC has just added Watch*IT OPC Express and Watch*IT OPC Express with Mobile to their line of products. Watch*IT OPC Express takes alarm management to new heights with easy to use features that let users take control of their alarm management with several options under $100(USD). Watch*IT OPC Express with Mobile lets you see shop floor data in your hand by sending it over wireless networks to mobile devices like smart phones and tablets.
At the heart of the Watch*IT OPC Express is OPC technology, an open standard to collect data. Almost all DCS, SCADA, HVAC, BMS, BAS, and PLC systems generate data that is or can be exported to OPC. Watch*IT OPC gets the data from the OPC enabled servers and allows the user to set independent alarm conditions for each of the data points and manage who gets the alarm alert emails. Watch*IT OPC Express with Mobile does this with both email and wireless communication via Watch*IT OPC Mobile apps for Android™, BlackBerry®, and iPhone®.
Watch*IT OPC's effectiveness is maximized by its ease of use and manufacturing data has never been as easy as this. The entire development team focused on making a version that is easy to use and the result is a success with Watch*IT OPC Express. It is so easy to use that in about 5 minutes most people will be able to start using a fully functional trial version without any support from the IT department!
ABOUT REMOTE PROCESS ALARMS, LLC.
Remote Process Alarms, LLC (RPA) is a provider of process automation system monitoring software and services. RPA is dedicated to delivering manufacturing data to the new wireless platforms and technology that allows users to get real-time process data and alarms from DCS, SCADA, HVAC, BMS, BAS, PLC, and other similar systems. The RPA team has served commercial and industrial customers with discretion for over 15 years and is an OPC Foundation Member. Remote Process Alarms is the maker of the Watch*IT OPC line of products designed to collect and monitor manufacturing data via OPC systems.
For more information, please feel free to call us at 1-800-380-9772 or visit our website at http://www.watchitopc.com
###