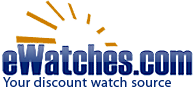 As one of the most popular discounted online retailers of watches for men and women, we thought it would be a terrific "thank you" to our consumers if we extended Cyber Monday to Cyber Week.
Hollywood, Florida (PRWEB) November 21, 2011
eWatches.com, a leading online retailer of watches for men and women, always wants to offer the best watch discounts to their customers. And in true fashion they thought big when it comes to today's announcement of two enormous watch sales. In eWatches style, "Cyber Monday" is becoming "Cyber WEEK." Meanwhile, the pre-holiday sale will offer more incentives on the lowest watch prices imaginable.
Prices on watches, including Invicta, Tag Heuer and Breitling, are always heavily discounted on the site. Even the most popular models of Swiss watches have their prices dramatically reduced. However, the Cyber Week and Pre-Holiday promotions on the site will provide consumers with additional discounts.
From Swatch and Swiss Legend to Breitling and Cartier, no watch is immune to eWatches' slashed pricing. From just $19 for a practical men's Dunlop digital watch with a rubber strap, to a whopping $59,995 for the covetable gold men's Rolex Daytona chronograph watch with white diamonds--every watch is a fraction of the price you would pay for it in a watch store.
The eWatches Cyber Week and Pre-Holiday sales will offer consumers exclusive pricing on the online watch retailer's extensive inventory of watches for men and women. Consumers can expect to shop vastly discounted prices--sometimes by as much as 93%!
In addition the Cyber Monday and Pre-Holiday sales will offer shoppers guaranteed holiday shipping. What's more, the site promises free ground shipping on all watches, which can be upgraded to second-day air for just five dollars. And if that weren't enough, eWatches is offering an extended holiday return period this year--through to February 2012.
With the holidays just around the corner, it is the perfect opportunity to take advantage of these remarkable discounts offered by eWatches. And be sure to stay tuned for additional seasonal sales.
About eWatches
eWatches.com is an award-winning website that has been selling watches to tens of thousands of satisfied customers since 2003. In both 2007 and 2008, Inc. Magazine selected eWatches.com as one of America's 500 Fastest Growing Companies in its annual Inc. 500 list. eWatches gives customers a superior shopping experience with:

FREE Shipping on all domestic orders
100% Satisfaction Guarantee
Low Price Guarantee
30 Day Money Back Guarantee
To get the latest buzz and inside scoop, follow eWatches on Facebook and Twitter at 'ewatchescom'
###