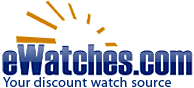 "Between noon and 3pm, take your lunch-break with eWatches and save with up to 90% off and prices starting at just $9.99"
Hollywood, Florida (PRWEB) November 14, 2011
eWatches.com, a leading online retailer of men's watches and women's watches, continues to raise the bar on the discounts that they extend to their customers with their ongoing daily deals. Prices on watches, including Invicta, Tag Heuer, Seiko, Swiss Legend and Breitling are already heavily discounted on the site.
With the addition of new daily promotions that run 24/7, they provide consumers with even more incentives. Additional discounts can push the prices of the watches down by up to 90% off the retail price. The 24/7 holiday sales on eWatches, include the following everyday promotions:
Blue Lunch Specials
For three hours only each day, eWatches.com extends wholesale prices to a selection of their top selling watches. Between noon and 3pm, the store encourages shoppers to "take your lunch-break with eWatches and save." And save you shall, with up to 90% off and prices starting at just $9.99. The specials span the full spectrum of watches, from Panerai to Activa.
Beat The Clock
Twenty watches take their turn each week and count down against the clock for some of the best deals you will find on this selection of top watches. Brands vary, but can include luxury Swiss watches like Ebel, to mid-priced watches like Invicta and down to economical brands like Swiss Legend. The Beat The Clock sale is a great way to score the lowest price possible on a coveted watch.
Daily Deal
For the impetuous shopper, eWatches offers a Daily Deal. As its name would suggest, the Daily Deal runs for 24 hours and changes daily. On the Daily Deal, watch prices can be reduced by more than 90%. Depending on the day, the deal may be on a hard to find luxury men's watch like the Breitling Bently Motors T. On other days the Daily Deal could offer a more jovial women's watch like the Glam Rock Women's Crazy Sexy Cool Chronograph White Diamond watch.
One-Hour Watch
Every hour on the hour, eWatches puts another watch up for sale with incredible discounts. The online retailer also shows the next three hours' watches that will be coming up so that consumers can time their shopping.
With the holidays just around the corner, it is the perfect opportunity to take advantage of these remarkable sales hosted by eWatches each and every day, 365 days a year. And be sure to stay tuned for additional seasonal sales.
About eWatches
eWatches.com is an award-winning website that has been selling watches to tens of thousands of satisfied customers since 2003. In both 2007 and 2008, Inc. Magazine selected eWatches.com as one of America's 500 Fastest Growing Companies in its annual Inc. 500 list. eWatches gives customers a superior shopping experience with:

free Shipping on all domestic orders
100% Satisfaction Guarantee
Low Price Guarantee
30 Day Money Back Guarantee
To get the latest buzz and inside scoop, follow eWatches on Facebook and Twitter at 'ewatchscom'.
###