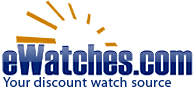 The discounts by which we mark down our watches on some of the most popular brands is staggering.
Hollywood, Florida (PRWEB) November 09, 2011
During October, eWatches.com, a leading online retailer of men's and women's watches, held their Halloween Sale through the end of the annual holiday. The sale boasted hundreds of eWatches' most popular men's watches and women's watches at rock-bottom prices. In some instances there was as much as a staggering 90% off the watch's recommended retail price.
The Halloween Sale is a once-a-year exclusive that eWatches' customers look forward to. "Our customers love the excitement of our larger annual sales," says Roi Mallach, Director of Customer Service at eWatches.com.
Some of the top luxury brands of watches were included in the promotion including Activa, Invicta Watches, Swiss Legend watches, Seiko, and Chronograph watches. Styles range from oversized watches to small watches for women. Discounts for watches in the Halloween Sale can reduce the price of a watch to as little as $18.
The Halloween Sale is just one of a number of shopping incentives on eWatches.com. The leading discount watch retailer also hosts Blue Lunch Specials each day between 12pm and 3pm EST. This allows customers to jump on the website during their lunch break to grab a great deal not otherwise available. In addition, Daily Deals offer an exclusive top brand watch at up to 90% off retail prices.
With the success of these deal programs, eWatches added Beat the Clock sales, One Hour Watch deals and Weekend Brunch Specials. Consumers can now enjoy hugely discounted prices on top name luxury watches every day of the week.
About eWatches
eWatches.com is an award-winning website that has been selling watches to tens of thousands of satisfied customers since 2003. In both 2007 and 2008, Inc. Magazine selected eWatches.com as one of America's 500 Fastest Growing Companies in its annual Inc. 500 list. eWatches gives customers a superior shopping experience with:

FREE Shipping on all domestic orders
100% Satisfaction Guarantee
Low Price Guarantee
30 Day Money Back Guarantee
To get the latest buzz, deals and inside scoop, follow eWatches on their Facebook page and Twitter page.
###