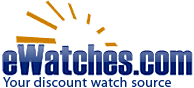 A New Year marks a significant moment in many people's lives. As the clock strikes midnight we make resolutions to better our selves and our relationships. This year, we are suggesting to our loyal customers that they give themselves the gift of time.
Hollywood, FL (PRWEB) December 30, 2011
On Saturday night everyone will ring out with the old and in with the new as 2012 comes in at the strike of midnight. And just like that, with the strike of a second-hand, the new year will begin. There is, in short, no pubic holiday that is as synonymous with time as the dawning of a new year. And so, eWatches has named 2012 the 'year of the watch'. How better to celebrate the new millennium's 13th year with the gift of time by buying a new Invicta watch from eWatches?
eWatches is celebrated by their loyal customers for offering them the best watch prices on the web at every price-point. From Swiss Made luxury watches by manufacturers including Rolex, Breitling and Tag Heuer, to premium Japanese watches such as Seiko, and domestic watches by manufacturers including Activa and Invicta.
Indeed, Invicta watches are one of the more popular brands that eWatches sell. Their styles are on par with the luxury Swiss watch manufacturers, while their prices are fiercely competitive. Watch styles by Invicta watches cater to all tastes and needs. From designer-looking Invicta chronograph watches and diver's-style watches, to ceramic and traditional bracelet-style. Invicta manufactures a men's watch and women's watch for every aesthetic and budget.
When giving the gift of time in this New Year, an Invicta watch is a great choice. After all, a fabulous watch is half the battle when it comes to staying on time and organized in this crazy, fast-paced world in which we live. And with a great watch, people might even find themsleves with minutes--or hours--to spare in 2012.
About eWatches
eWatches.com is an award-winning website that has been selling watches to tens of thousands of satisfied customers since 2003. In both 2007 and 2008, Inc. Magazine selected eWatches.com as one of America's 500 Fastest Growing Companies in its annual Inc. 500 list. eWatches gives customers a superior shopping experience with:

FREE Shipping on all domestic orders
100% Satisfaction Guarantee
Low Price Guarantee
30 Day Money Back Guarantee
To get the latest buzz and inside scoop, follow eWatches on Facebook and Twitter at 'ewatches.com'.
# # #