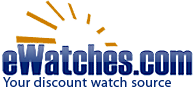 This year, we learned that our customers are creating far more modest resolutions for the year ahead, such as staying on schedule and spending more time with loved ones. As such, we have deemed 2012, 'the year of the watch'.
Hollywood, Florida (PRWEB) December 29, 2011
With the holiday season coming to a close with this weekend's New Year's Eve celebrations, eWatches looked to their loyal consumers and asked "what are your resolutions for 2012?"
Amongst the age-old answers of losing weight and stopping smoking there were more interesting--and surprising--responses like getting organized, and spending more time with loved ones. Such answers suggest our shoppers feel pushed for time. And how better to get over this sensation than by using the new year as an opportunity to get on schedule with the help of a new men's watch?
eWatches is renowned for offering their customers the best prices on watches for men that suit every budget, from Swiss Made luxury watches by manufacturers including Rolex, Breitling and Tag Heuer, to premium Japanese watches such as Seiko, and domestic watches by manufacturers including Activa and Invicta.
Indeed, Invicta watches are one of the more popular brands that eWatches sell. Their styles are on par with the luxury Swiss watch manufacturers, while their prices are fiercely competitive.
In today's hectic world, working life extends far beyond the nine-to-five routine. Our schedules are hard-pressed and we feel under enormous pressure. Oftentimes, our relationships with friends and family are the first to suffer. However, they really don't have to. Getting organized is, of course, key, but in getting organized, a great reliable men's watch is essential.
Staying on schedule thanks to a great men's watch is imperative to getting everything done in a day that you set out to do. And in achieving one's daily goals, one inevitably is floating in life's day to day, as opposed to sinking.
About eWatches
eWatches.com is an award-winning website that has been selling watches to tens of thousands of satisfied customers since 2003. In both 2007 and 2008, Inc. Magazine selected eWatches.com as one of America's 500 Fastest Growing Companies in its annual Inc. 500 list. eWatches gives customers a superior shopping experience with:

FREE Shipping on all domestic orders
100% Satisfaction Guarantee
Low Price Guarantee
30 Day Money Back Guarantee
To get the latest buzz and inside scoop, follow eWatches on Facebook and Twitter at 'ewatchescom'.
###