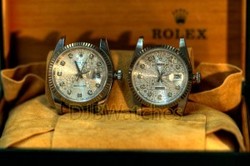 Although the internet provides a great forum for purchasing Rolex watches, the buyer most be very careful who he buys from
Los Angeles, CA (PRWEB) July 31, 2008
DJBWatches.com, the Internet's largest distributor of new and pre owned Rolex watches has launched an anti counterfeit Rolex campaign aimed to help consumers and watch enthusiasts identify fake watches as well as eventually stemming the trade of these replicas.
CEO Anthony Fulton says, "Recently, we have seen a marked upsurge in the amount of counterfeit Rolex watches out on the market. The prestige and quality associated with the Rolex brand make it particularly disheartening to see the amount of counterfeit watches being produced.
"Rolex is a marque that has humble beginnings and has been built over the course of 100 years and those that participate in the fake watch business do not appreciate the legacy of a company like this. Certain models such as the Rolex President have been around for over 60 years and the engineering that goes into each genuine example is truly something to be admired."
DJBWatches has decided to take up the fight against these watches and their manufacturers. They believe that good information will be a wise start in their endeavors; they will be providing a Rolex Education resource for all those interested in the Rolex brand.
In addition to the information section of our website, DJBWatches.com has created a blog section that will contain up to date information on counterfeit Rolex watches and how to identify them. There will also be a platform for enthusiasts and consumers to add additional information, ask questions and discuss their online Rolex watch purchase, their Rolex experiences, and report bad dealers, fake watches, fake watches, and more.
"Not only does our website have the largest selection of genuine Rolex watches for sale on the internet, we now have an online resource for detailed picture tutorials for how to inspect a watch and determine its authenticity."
"It is paramount that all potential Rolex watch buyers to fully examine the content of our education site prior to making a purchase from an online Rolex dealer."
CEO Anthony Fulton comments, "Although the internet provides a great forum for purchasing Rolex watches, the buyer most be very careful who he buys from"
When buying exclusively from Rolex Authorized Dealers (AD) buyers frequently have to endure wait times that can span over years for some particularly rare models. This is just one of the many obstacles that can drive an enthusiast to an online dealer.
Purchasing Rolex watches online has been a recent phenomenon that enables the consumer to save thousands of dollars of the price of retail, have the convenience of buying from his own home, and browse the largest selection possible of watches. Hard to find options such as a a Serti Dial Submariner, black Roman numeral marker dial, or a pearl diamond dial Datejust can be found at many online dealers.
Aftermarket additions are also another reason to turn to the internet. Pave set diamond bezels, Princess cut diamond bezels, Canary yellow diamonds, and more can be professionally added by your online dealer.
Despite these benefits, consumers are encouraged to fully examine and research the company being considered. Does the company accept credit cards? Do complaints turn up while searching the company on popular search engines? Is the company an accredited member of an organization such as the Better Business Bureau (BBB)? What is their standing among well known enthusiast clubs and forums? These are all good indicators of the reliability of the company you are purchasing from.
###