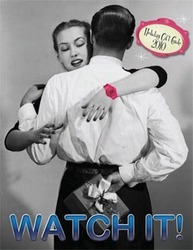 "As a bonus, WATCH IT! customers will be rewarded with a $25 gift voucher for every $200 purchase made until December 24, 2010."
(PRWEB) November 2, 2010
WATCH IT! Announced today the launch of their new Holiday Gift Guide. This year, the Annual Gift Guide blends classic signature styles of the 50's with bright surges of color from surf and skate culture. Featured items from brands like Casio, Swatch, Hugo Boss, Spy, Vestal and Fossil were handpicked from hundreds of timepieces and sunglasses and wrapped up in simple gift giving sections for him or her.
Highly featured in this year's magazine, NIXON offers countless new colors, materials, and finishes this season. The Ladies 42-20 welcomes you on page two with rich tortoise shades surrounding a bold oversized dial of gold flavoured indexes. "An unexpected path can lead to an entrancing experience. The 42-20 Chrono." – Nixon
CITIZEN is excited to offer an exclusive timepiece only available at WATCH IT! stores across Canada this season. The Limited Edition World Perpetual A-T in Rose Gold is a numbered collection of timepieces presented in a handcrafted, collectable wood box. This Eco-Drive, radio-controlled world timer is perfect for the world traveller or timepiece enthusiast. This limited edition and is only available online or at one of WATCH IT!'s 21 stores.
A newcomer to WATCH IT! this year, MICHAEL KORS had quickly jumped to the top of everyone's wish list. Featuring solid ceramics, white acrylics, heavy rose tones and pave crystal bezels, this leading designer has offered a strong collection for both Men and Women.
"We are excited to offer our customers unique and timely gift ideas this holiday season that are also fashionable and affordable," said Darren Bondar, Founder and President of WATCH IT! Inc. "As a bonus, WATCH IT! customers will be rewarded with a $25 gift voucher for every $200 purchase made until December 24, 2010."
Holiday shopping begins at WATCH IT!, CLICK HERE to view the new WATCH IT! Holiday Gift Guide.
About WATCH IT!
Founded in 1999, WATCH IT! currently has 21 locations and is expanding across Canada through a combination of corporate and franchise stores. Each boutique carries hundreds of unique and innovative brand name styles of watches, sunglasses, and accessories that are cutting edge and lead the worldwide industry in both technological innovation and fashion. WATCH IT! customers take pride in their individuality, their sense of style, and their appreciation for quality. They love the wide selection at every price point, ranging from an $18 pair of fashion sunglasses to a deluxe $1495 luxury watch. The company is also a leading Canadian e-tailer and sells its products across Canada and worldwide.
###