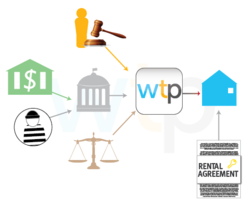 WatchThisProperty.com is a great resource for Tenants wishing to learn the foreclosure status of their home or future home for free. This consumer-oriented and well-designed site will help countless Tenants avoid rental scams and unscrupulous landlords
Oakland, CA (PRWEB) January 08, 2013
Tenants aren't always aware of their rights especially when a landlord foreclosure occurs. For example, the Federal Protecting Tenants at Foreclosure Act (PTFA) insures that all "bona fide" Tenants be given at least 90 days notice to vacate under all conditions. According to a survey of Tenants' rights advocates by the National Law Center on Homelessness & Poverty, the most common PTFA violations are:

Lack of communication from the new owner (85.9%);
Illegal, misleading, or inaccurate written notices (68.1%);
Harassment from real estate agents, law firms, or bank representatives (61.1%); and
Failure to maintain the property (64.3%).
WatchThisProperty's service alerts Tenants to a change of ownership, the identity of the new owner, and informs about the laws of the land. There is not just Federal laws, the Tenant component of the recently enacted California Homeowner's Bill of Rights provides similar protections as the PTFA. In addition, Tenants who live in cities with rent control and/or just cause eviction ordinances have additional rights.
"WatchThisProperty.com is a great resource for Tenants wishing to learn the foreclosure status of their home or future home for free. This consumer-oriented and well-designed site will help countless Tenants avoid rental scams and unscrupulous landlords," says Dean Preston, Executive Director of Tenants Together, California's only statewide organization for renters' rights.
Tenants need answers prior to and while they are renting. Just as landlords check prospective Tenants' credit scores and past rental history, WatchThisProperty allows Tenants to check out prospective landlords. Due to the lack of knowledge around Tenant rights (and in this environment of shady landlords and bank practices), too many Americans have been wrongfully forced out of their homes.
Learn more about WatchThisProperty's Landlord Screening service and How WTP Works for Tenants.
About WatchThisProperty.com
WatchThisProperty.com empowers homeowners and tenants with access to relevant and timely information. Founded in 2011, WatchThisProperty is comprised of a team of consumer advocates, technology, legal and real estate professionals. WatchThisProperty.com is currently only available in California but will soon be expanding across the United States. More information is available at WatchThisProperty.com.