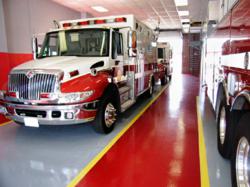 Chicago, Il (PRWEB) November 15, 2011
Floropoxy System 8000 Water-Based Epoxy, the latest green product to join the ever-expanding Florock industrial flooring line, offers a high gloss, low odor option to today's V.O.C. restricted facilities. Flexible in application, this eco-friendly, moisture tolerant coating is equally suited as a quick-curing, stand-alone concrete sealer, or as a durable topcoat over other high performance Florock systems.
Bare concrete floors produce dust and allow penetration of contaminants and stains. Floropoxy System 8000 prevents concrete dusting, improving air quality and reducing strain on air filtration systems. A highly cross-linked polymer coating, it protects and eases maintenance of commercial, institutional and light industrial floors. At the same time, Floropoxy System 8000 helps safeguard the environment by preventing many dangerous chemicals from leaching through the porous slab into surrounding soil and groundwater.
Clear Floropoxy System 8000 may be conveniently tinted with Florock 100% solids colorants at the jobsite to achieve a variety of decorative, room-enhancing shades. The lustrous, light reflective finish improves visibility without the need for additional fixtures, helping to lower electric costs and conserve energy.
As part of an overall environmental safety and sustainability program, Floropoxy System 8000 offers outstanding resinous flooring protection and peace of mind while simultaneously contributing to the company bottom line with its exceptionally robust concrete floor coating value.
Local Florock professionals are available nationwide to assist installers and facility managers in choosing the best industrial floor coating for their unique applications. Call 1-800-FLOROCK (1-800-356-7625) to find a representative near you.
ABOUT FLOROCK®, MANUFACTURED BY CRAWFORD LABORATORIES, INC. - Serving facilities nationwide, Crawford Laboratories, Inc. is a respected leader in the manufacture, research and development, and installation of solutions-oriented concrete floor coatings and toppings. Independently owned for over 58 years and located in Chicago, Illinois, Crawford Laboratories was founded on the principles of cutting-edge technology, innovation and impeccable integrity.
###