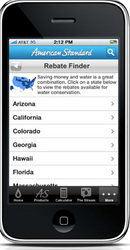 The Responsible Bathroom App is another opportunity to educate consumers about the real ecological and cost-savings implications of today's leading water saving products
Piscataway, NJ (Vocus) July 13, 2010
July 13 American Standard Brands has developed a free downloadable app for smart phone users with leading water conservation decision-making tools, facts and information.
Now available for download at ResponsibleBathroom.com, the Responsible Bathroom App allows users to calculate the cost savings of different products and conservation behaviors, locate rebates, and even find the nearest retailer – all on their smart phones.
"Standing in a store, you can compare the cost implications of a particular decision, learn of available rebates and purchase incentives, or double-check the efficiency of a product," says Jeannette Long, general manager of e-commerce and marketing for American Standard Brands. "At home, you can use it to realistically forecast your monthly water bill savings and see your larger environmental contribution."
The Responsible Bathroom App's features include:

Water Savings Calculator– estimate your potential cost savings for various conservation behaviors and products using local municipal water rate data.
Rebate Locator– find local incentives for purchasing water-efficient products (as high as $300 for each new high-efficiency toilet installed).
Conservation Sweepstakes– earn points for pledging different water conservation behaviors and qualify for prize sweepstakes ranging from free products to a luxury eco-friendly vacation.
Blue Success Stories– read real-life examples of water efficiency projects and resulting cost and environmental savings.
"The Responsible Bathroom App is another opportunity to educate consumers about the real ecological and cost-savings implications of today's leading water saving products," explains Long, noting American Standard's century-old commitment to water conservation.
The Responsible Bathroom App is the latest in a series of initiatives by American Standard Brands to raise awareness of practical water conservation solutions through award-winning product innovations and increased consumer choice. Visitors to ResponsibleBathroom.com can also view American Standard's vast collection of water-conserving bathroom suites, toilets, faucets, showers and commercial plumbing solutions.
ABOUT AMERICAN STANDARD BRANDS
American Standard Brands is a leading North American manufacturer of a wide range of high-quality kitchen and bath products, including faucets, fixtures, furniture, vitreous china fixtures, cast iron sinks, whirlpool tubs and other related products. The company currently serves both the residential and commercial markets; employs more than 5,000 people in the United States, Canada and Mexico; and markets products under the American Standard®, Crane®, Eljer®, Porcher®, Jado®, and Fiat® brands. American Standard Brands is an affiliated portfolio company of Sun Capital Partners.
# # #