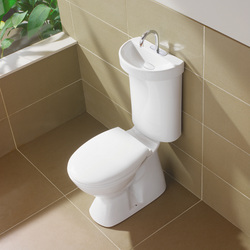 We are proud to help spread the green message by sponsoring the Global Green Pre-Oscar Party
Los Angeles, CA (PRWEB) March 3, 2010
Welcoming celebrities and eco-luminaries from around the world, Caroma will be the toilet manufacturer of choice at the pre-Oscar event, which will bring together some of Hollywood's biggest stars, including Orlando Bloom, James Cameron, Neil Patrick Harris and Salma Hayek; who will be on-hand to discuss the latest on Global Green's initiatives. The event will include exclusive musical performances by talented artists Good Charlotte and Mia Maestro, a gifting lounge, and presentations from the Global Green committee for an exciting night that celebrates eco-awareness and spreads the green message.
As a key sponsor of the "Greener Cities for a Cooler Planet" pre-Oscar event, Caroma will have their water-saving Smartflush® toilets on display throughout the venue and gifting suite, and will provide coupons for the VIP gift bags. The "One Flush Makes a Difference" coupons will kick off a month long promotion where customers will get 50% off the list price purchase of a Caroma toilet. Caroma, a leading toilet manufacturer, has been involved in the event for three years and is proud to once again participate in the premiere green event for the environmentally minded Hollywood community.
Global Green's celebrity supporters and sponsors have helped make this annual event a must attend event for eco-cautious entertainment industry. Caroma is a natural fit as a sponsor of the event. "We are concerned with protecting the environment now and into the future. Caroma promotes water conservation with high efficiency toilets and urinals, and we are proud to help spread the green message by sponsoring the Global Green Pre-Oscar Party," stated Derek Kirkpatrick, Caroma North America General Manager.
About Caroma:
Since 1941, Caroma has been a world leader in quality and innovative toilet suites and washbasins. They were the first in the world to introduce the dual flush system and continue to provide water conserving toilet and urinal solutions to residential and commercial markets. With 47 WaterSense certified toilets, more than any company in the industry, Caroma offers award-winning products that help preserve the world's most valuable resource - water. Combining quality, water saving innovations, and superior customer service, Caroma has been chosen by businesses and households worldwide for exceptional performance and stylish designs. Visit Caroma on the web at http://www.caromausa.com. For additional information contact DRS and Associates at 818.981.8210 or http://www.drsandassociates.com.
About Global Green USA:
Global Green USA - the American arm of President Gorbachev's Green Cross International - was founded by Diane Meyer Simon in 1993. For the past seven years, Global Green has collaborated with the Hollywood community to raise global awareness of Smart Climate Solutions -- from celebrities driving green cars to the Oscars to building green homes, buying green products and voting for green political leaders. Global Green is the only national environmental group headquartered in Southern California and has offices in New Orleans and Washington, DC.
# # #