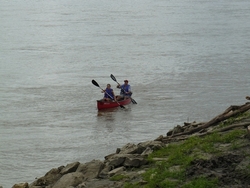 Sometimes reports like this make people feel like the problem is so big that there isn't anything that one person can do
St. Charles, MO (PRWEB) March 24, 2008
A recent report from the Associated Press indicating the presence of trace amounts of medication in U.S. drinking water has dominated headlines across the country since its release earlier this month, and left many Americans concerned about the over-arching effect that this, and other forms of water contamination may have on humans, wildlife and ecological systems.
The five-month-long study found pharmaceutical contaminants like antibiotics, anti-convulsants, mood stabilizers and sex hormones in test results from 24 major cities, serving 41 million Americans. Scientists are unsure about the long-term health effects that these pharmaceutical chemicals may have on humans, but animal studies showing hormonal changes in fish and other early warning signs are troubling.
As President of The Greenway Network, a grassroots organization focused on clean water conservation and preservation in and around the St. Louis region, Dr. Charlene Waggoner says that the intense public interest generated by this report has been a catalyst in bringing general concern for water conservation and preservation to the forefront. "Naturally, people are disturbed by the thought of having contaminants of any kind in their drinking water," said Waggoner.
Based in St. Charles MO, The Greenway Network has been spreading the word on conserving natural resources and the sound management of watersheds in the St. Louis region for fifteen years. Waggoner says that through her experience with Greenway, she's seen first-hand, the effect that individuals, agencies and businesses coming together for the good of the environment can have on a community .
"Sometimes reports like this make people feel like the problem is so big that there isn't anything that one person can do," said Waggoner. "People don't take baby steps because they can't see how they all combine to make things better."
So what can the average citizen do to get involved and make a difference? Waggoner says that opportunities to promote and participate in clean water initiatives throughout St. Louis are varied and plentiful. For newcomers to environmental activism, Waggoner suggests checking out The Greenway Network's upcoming Race for the Rivers Festival and Missouri River Racing Event. "As family-friendly St. Louis events go, Race for the Rivers is a knockout," said Waggoner.
Scheduled for the weekend of August 23 and 24, Race for the Rivers is designed as a fun-filled way for everyone from conservation newbies to passionate activists to promote clean water education, restoration and recreation. For a 'hands-on' experience, conscientious participants are invited to take part in one of two Missouri River kayak and canoe races that vary in skill and competition level. Those who would prefer a drier introduction to clean water awareness are invited to attend the Race for the Rivers Festival at Frontier Park in St. Charles MO, where live performances from seven local bands, great food and educational displays set the stage for a spirited celebration of clean water initiatives.
Waggoner offers Race for the Rivers as an example of how easy and fun environmental consciousness can be, but says that no matter how St. Louis area residents choose to get involved, the most important thing is simply that they get involved in the first place. "Don't wait for the next shocking story about pollution to come out to take action," said Waggoner. "You don't want to have to drink your mistake."
For more information on Race for the Rivers visit http://www.racefortherivers.org.
###