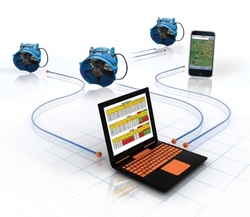 Alerts and on-line trending reduced my drying time and the number of site visits needed for each job.
Minneapolis, MN (PRWEB) July 28, 2010
ZTR Control Systems announced the new InReach solution for restoration equipment monitoring, giving restoration service providers a powerful tool for improving drying times and reducing costs. The drying process is a central part of the restoration of water damaged buildings. Success depends on the right use of equipment as early as possible, before mold and mildew set in. To add to the challenge, every building structure is unique, requiring a mix of drying equipment positioned at specific locations and working for a precise amount of time. ZTR's InReach solution uses on-site sensors to track moisture and temperature levels, wireless on-site networks, and telematics systems to consolidate & transmit the information. The InReach Web Center provides the alerts & reports needed to dramatically improve the process and profitability for a restoration service business.
The moisture and temperature trends can be viewed from your own computer or smart phone, enabling proactive site visits. Threshold alerts can be set to automatically notify you when a drying phase is complete or when conditions change.
On top of that, the InReach solution remotely tracks the location of your larger drying equipment. The online GPS mapping system shows all the monitored assets in a service region at a glance. Key parameters are displayed for each piece of equipment. Details are one click away, easily accessed by hovering over system icons. Reports on equipment usage will assist in performing preventive maintenance.
The InReach monitoring system also tracks the run time of equipment and feeds it into efficient on-line maintenance planning tools. And when the project is completed, a final report can be generated and submitted to the client as proof of a job well done.
By using remote monitoring to reduce drying time and costs, while consistently applying standards for quality, restoration service providers will have a big competitive edge in the market.
About ZTR Control Systems:
ZTR Control Systems is a privately held company with offices in Minneapolis, Minnesota USA and London, Ontario Canada. It is dedicated to the design and commercialization of intelligent equipment management solutions for portable equipment applications.
###