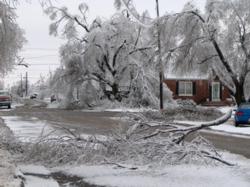 Winter came in like a lamb just before Christmas of 2011, but according to RestorationLocal.com, is likely to go out like a lion in 2012...
Cleveland OH (PRWEB) January 02, 2012
Winter came in like a lamb just before Christmas of 2011, but according to RestorationLocal.com, is likely to go out like a lion in 2012. Severe snow and ice are projected throughout the Midwestern United States, with Chicago looking to be ground zero for inclement weather during much of that time.
RestorationLocal.com offers water damage restoration services in all 50 states, and is advising homeowners to take appropriate measures to try and prevent some of that damage by adequately preparing their homes and businesses for the winter.
Homeowners should have adequate provisions for at least a 72 hour stay in their homes in the event that the weather gets ahead of road cleanup crews and are unable to leave their homes during this time. At least one gallon of water per person per day is recommended. Automobiles should be equipped with de-icers as well as blankets and extra clothes in case they become stranded in ice or snow.
Food stored should be ready to eat and require no cooking in the event that power or gas lines are inoperative.
In advance of any freezing temps, water should either be shut off or warm water run gently in order to prevent pipes from freezing up. Frozen pipes can easily burst as the ice inside expands over time. A pipe in a hard to reach spot may empty a considerable quantity of water before the problem can be located and shut down.
Properly inspect the roof of the home for any signs of cracks or leaks. Inspection from the attic is preferred; if light can be seen from the outside at any point, then that should be considered an access point for water into the home. All roofs should be properly sealed to prevent leakage.
Adequate insulation should be present to retain heat during bitterly cold weather snaps. Ten to twelve inches of blown in insulation should be adequate to protect the home. If joists or other structural supports are visible through the insulation, or if the insulation is old or wet, then it should be replaced with new. In the event of a power outage, the home will need to retain all the heat it can.
Damage from melting ice and snow or from the aforementioned burst pipes may be considerable. RestorationLocal.com offers a full range of water damage restoration services designed to repair homes and return them to their pre-loss condition following any case of water damage. RestorationLocal.com technicians are fully trained and experienced, able to handle even the largest damage scenarios.
RestorationLocal.com is headquartered in Cleveland OH with same day emergency service offered nationwide.
###