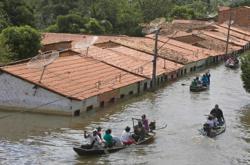 However, the 2011 season is shaping up to be an active one, even with no major storms named as of yet.
(PRWEB) July 28, 2011
The 2011 hurricane season officially kicked off on June 1, with a 70 percent likelihood of 12-18 named storms occurring between then and the November 30 ending. Forecasters also predicted that of those storms, 6-10 would actually develop into full borne hurricanes, with roughly half of those becoming major storms before blowing themselves out. The water damage potential is enormous.
The first named storm, Arlene, developed at the end of June and struck Veracruz, killing 25 people. Arlene never developed beyond tropical storm, nor did the following two, Bret and Cindy. Tropical storm Bret remained out at sea, dissipating north of Bermuda in mid-July, and Cindy also bypassed the mainland less than a week later.
The last major storm to strike the US mainland was 2005's Hurricane Wilma, the strongest hurricane ever formed in the Atlantic basin, blowing across the Gulf Of Mexico as a Category 5 storm and striking Florida as a solid Category 2 several days later.
2005 was also the most active hurricane season in recorded history, with seven major hurricanes including Katrina and Rita (whose aftereffects are still being felt to this day). Most forecasters, many citing global warming, predicted that this was only the warm up for things to come, and that future hurricane seasons would see storms that were both more numerous and more intense. Of course that didn't happen, and for the last six years, no major storm, or even a minor one, has hit the continental United States.
However, the 2011 season is shaping up to be an active one, even with no major storms named as of yet. This demonstrates beyond all doubt that hurricane forecasts are nebulous at best, and residents along the eastern seaboard should be aware of rapidly changing conditions between now and Thanksgiving.
Hurricane preparedness always should take place before a storm is actually bearing down on a given area. Residents in those locations with a history of hurricane activity are advised to have an evacuation route already laid out, with phone numbers to out of state friends and family, as well as a "go bag" for each family member, appropriately stocked with clothes, non-perishable food, bottled water, cash, important documents and insurance information, as well as a battery powered radio or small TV (with spare batteries).
Residents are also advised to have materials on hand to shutter or board up windows, as well as knowing how to shut off utilities at their source in the event of an evacuation. Vehicles should be kept properly gassed up, and plans should be made to take care of any pets in the home. Not all shelters accept pets.
Residents should also expect to come home to a property with severe water damage. Again, the time to prepare for this sort of problem is before the rain starts to fall. It is highly advised to secure the contact information of a local, professional, IICRC certified water damage restoration provider. The ideal company will be available 24/7, able to dispatch a technician to the property within the hour, and offer the complete range of services from water removal and drying, to carpet cleaning and mold removal, as well as structural repair and restoration.
Water Damage Local.com is a nationwide network of providers equipped to handle all commercial and residential water damage problems.
# # #