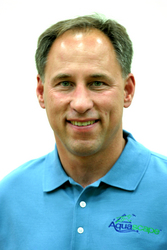 T.D. will ensure we have a solid foundation to continue to grow profitably.
St. Charles, IL (PRWEB) August 30, 2007
Aquascape is proud to name T.D. Decker as its new President. Founder and CEO Greg Wittstock will continue to focus on his passion for growing the water garden industry.
"I am going to continue to focus on casting the vision, sharing my passion for water gardens, developing relationship throughout the industry, and evolving our unique culture," Wittstock said. "T.D. will ensure we have a solid foundation to continue to grow profitably."
Decker earned a B.S. in engineering from the United States Military Academy at West Point where he was a quarterback on the Army football team and received an MBA from Duke University where he was president of his class. Decker previously was president of two manufacturing companies, then oversaw a portfolio of service companies and recently was president of a $3 billion hedge fund.
"I am thrilled to have the opportunity to lead Aquascape from 'Good to Great.' Having led process, product, service, and financial services companies, I'm now excited to learn how to run a niche distribution company," Decker said.
"T.D. Decker has a 25-year track record as an organization builder, change agent, and coach," Wittstock said. "He has a history of developing leaders while improving customer satisfaction, business results, the culture, and shareholder value. We are excited to have him lead our team to the next level."
The official announcement of Decker's addition to the company came at Pondemonium® 2007, Aquascape's biggest event of the year. For more information on Aquascape's products, programs, or events, call 866-877-6637 (US) or 866-7663426 (CAN).
Aquascape is North America's leading innovator in the water gardening industry. Aquascape invented the low-maintenance, naturally balanced ecosystem pond that is the # 1 contractor-installed water garden. The St. Charles, Illinois headquarters, dubbed "Aqualand," received Silver Level recognition in the Leadership in Energy and Environmental Design (LEED) Green Building Rating system. Aquascape's mission is to help our customers succeed at building, selling, and retailing water features. Aquascape and its vast network of Authorized AquascapePRO™ Distributors sell exclusively to contractors and retailers of pond products. Founded in 1991, Aquascape made the Inc. 500 list of fastest growing private companies four years in a row. In 2005, founder and CEO Greg Wittstock was named one of America's Best Bosses by FORTUNE Small Business Magazine and Winning Workplaces™.
###