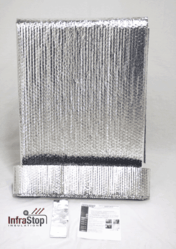 Indianapolis, Indiana (PRWEB) July 27, 2012
According to the Florida Solar Energy Commission (FSEC), using a water heater blanket is one of the top ten do it yourself energy saving projects homeowners can do to save on their utility bills.
Insulation Stop has supplied radiant barrier and reflective foil insulation nationally for over ten years and the addition of a water heater blanket to the product line is a natural progression. The kit contains a 72" x 72" piece of insulation, spacer strips, and tape.
"Our customers understand how to invest in products that save on their energy consumption. Now we can offer them more material to help them in their effort. Our InfraStop™ hot water heater jacket will join our other kits to offer homeowners a full range of energy saving products." stated Nick Semon, owner of Insulation Stop.
"We decided to create an affordable kit that is easy for anyone to install. The kit comes with all the contents needed to wrap your water heater including the material and an installation sheet. We have also produced an installation video for consumers looking to use the product. It's all part of our commitment to our customers to continue adding products they need and putting resource material on our website to show them how to use our products."
For more information on radiant barrier and reflective foil insulation, please visit InsulationStop.com.
Nick Semon is co-owner of Insulation Stop. They offer individual and bulk orders of U.S made radiant barrier and reflective bubble foil insulation products for commercial and residential use. The company is committed to offering extensive knowledge on the use and application of its reflective insulation products.